Love Park City! The Charm, Skiing & Snow Sports Will Keep You Coming Back Each Season!
Sponsored by Fera Style Ski Wear
Why comprise style when you have the Montage Deer Valley? If I'm going to stay somewhere other than my own cozy, zen-like home, it better be as good or better.  The Montage Deer Valley is a luxurious mountain lodge with grand fireplaces at every corner. The Montage is just an hour and a ½ flight from Los Angeles and 36 mile drive from Salt Lake City Airport and overlooks the charming and historic town of Park City. The Montage Deer Valley welcomes you with premier accommodations and true ski-in/ski-out access to one of America's number #1 ski resort.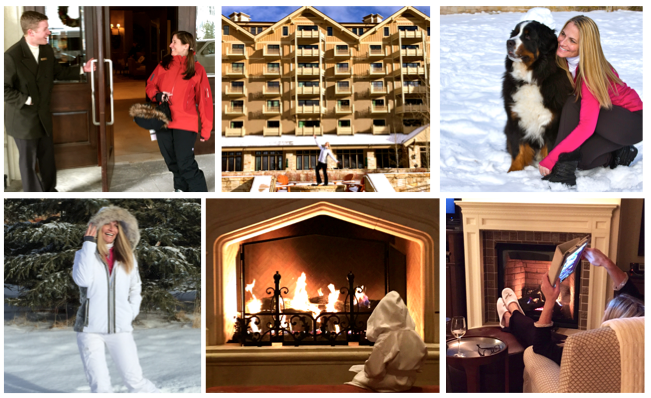 Just because one prefers the elegance and sophistication of high-end resorts doesn't mean you can't bring your children to enjoy it with you. The Montage treats my kids better than any one else. I love seeing babies toddling down the halls, preschoolers stomping snow off their boots in the lobby and grandparents chasing their grand babies. The hotel's abundant family friendly activities encourage a love for the great outdoors. Don't fret though, when you need your adult alone time — which I do, you can call upon Paintbox, The Montage's children's program, for kids ages 5 to 12 where they enjoy games, crafts, movies and engaging activities. Outside play includes active choices like show shoeing or mountainside scavenger hunts that bring budding explorers closer to the wonders of the wild. Be sure to have your kids in the lobby at 11 am or 3 pm to meet Monty, the official Montage snow dog. I'm completely in love with Monty, however, he seems to never remember me when I come. But that's okay because the hotel photographer snaps plenty of photos of you and Monty to take home!
Montage Deer Valley lodge also provides exciting activities for both grown-ups and kids. I enjoy relaxing in the nurturing surroundings of their huge Spa, which is a whopping 35,000 square-feet. The spa is one of my favorites of all hotels I've ever been too. It has beautiful treatment rooms, a large gorgeous indoor lap pool showcasing breathtaking views with serene meditation areas warmed by the crackling fire.  At the end of the day it's fun to play billiards with the family, bowl or play arcade games at Daly's Pub & Rec. Relish true ski-in/ski-out access to Deer Valley Resort. Or revel in the authentic romantic charms of Park City's historic Main Street and countless year-round cultural events.

Zip Line Through the Snowy Mountains!
I stayed super warm and looked chic in my Fera Style Jacket. I covered my boring old helmet with the cute Helmet Huggers hat! When I wasn't skiing I jumped into other fun mountain attractions. At The Canyons Resort I took a thrilling ride 110 feet high on the crazy Flying Eagle zip line! The two-person ride is open all winter too! Kids and adults must be 42″ tall, but no weight minimum. And it starts and ends at the same location, so you can ride again and again and again. At Park City Mountain, the adjacent resort, I took a toboggan ride on the Alpine Coaster and it went all over the mountain! It was surreal. You zoom through the beautiful Wasatch mountain scenery as the automated lift system whisks you to the top of the track. Then, hold on tight as you go whizzing down the mountain on nearly 4,000 feet of curves, bends and loops. Your kids will flip out over this!

Dining for all tastes
When I got off the slopes of Deer Valley I settled in for a hot buttered rum drink at Royal Street Café — which is in the Silver Lake Lodge at mid mountain.  My drink was a mix of spiced rum, vanilla butter, whipped cream, nutmeg and butterscotch schnapps. I was quite full from my luscious cocktail so I had the the fresh Dungeness Crab Tower for lunch.  The location is perfect for après-ski or dinner after a long day glorious skiing!
Peeps like me and from all around the world love to visit Zoom restaurant in downtown Park City to connect with the past and taste the best of the present! Zoom has one unique history which makes it all the reason to book your reservations there. Plus the trout is local and very delicious.  Zoom occupies, an iconic Union Pacific Railroad station from 1886 at the bottom of Main Street. When it opened for service, a local newspaper – The Park Record – reported: "The building is one of the finest in Park City…the design is modern tasteful and brilliant yellow paint adorns it on all sides." It became a center of commerce and community life.
Burgers and Bourbon is situated in the Montage Hotel. By far this is our favorite bar! The bartenders serve iconic drinks inspired by America's Golden Age of Cocktails! They even let me concoct my own ski-mama cocktail and they made it to perfection! The view is gorgeous and burgers are yummy and are made with a blend of the finest farm raised beef, topped with a selection of local artisanal cheeses. After dinner get a milkshake! They are divine.
If you want to feel as though you're truly dining in the Alps book a table in advance of your trip at the popular Fireside Dining located in the Empire Canyon Lodge right out in front of the Montage Hotel. It has a set menu of four courses served from stone fireplaces. The first course was a warm Swiss raclette cheese, cured meat and fruit. I think I gained 5 lbs on the cheese alone! A full bar is available, as well as specially selected wines and imported beer. Horse-drawn sleigh rides are available for hire or consider an adventurous trek before dinner on snowshoes.
Basically you need four to five days to enjoy the breadth of Park City. But be careful, if you love mountainside living, you just may move there. I'd say in about five years, I may be a resident no-doubt. As Dan Howard, the PR director of the Montage, says each time he sees me, "Welcome Home Kimberley." It melts my heart no matter how cold the weather is!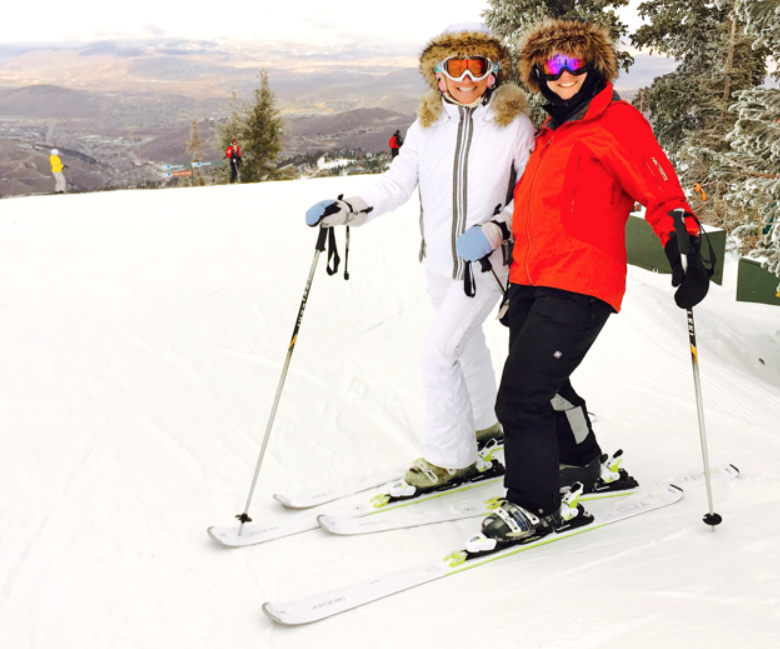 The Go-To Mom wardrobe was outfitted by Fera Ski Wear and Helmet Huggers.  Her accommodations and lift tickets were provided by Park City for the production of this episode. Kimberley Blaine will only promote, endorse and support companies she believes to have the highest standards in products and/or services that contribute to the well-being of families with young children.
I WEAR FERA ON THE SLOPES! I'm proud to be an ambassador for
Fera Style
ski wear…when I'm out and about in the snow or skiing. I hope you take the opportunity to try some of their products out using my coupon code listed below…  You can see by the photos that their parkas, pants and sweaters are sophisticated, classy and very functional. The price point is good as all their merchandise is very high quality and in line with the ski trends each year. – See more
HERE.
If you use my discount code GOTOMOM you'll get 20% off any purchase at Fera Style!