Scottsdale Family Desert Vacation at the Hyatt Scottsdale at Gainey Ranch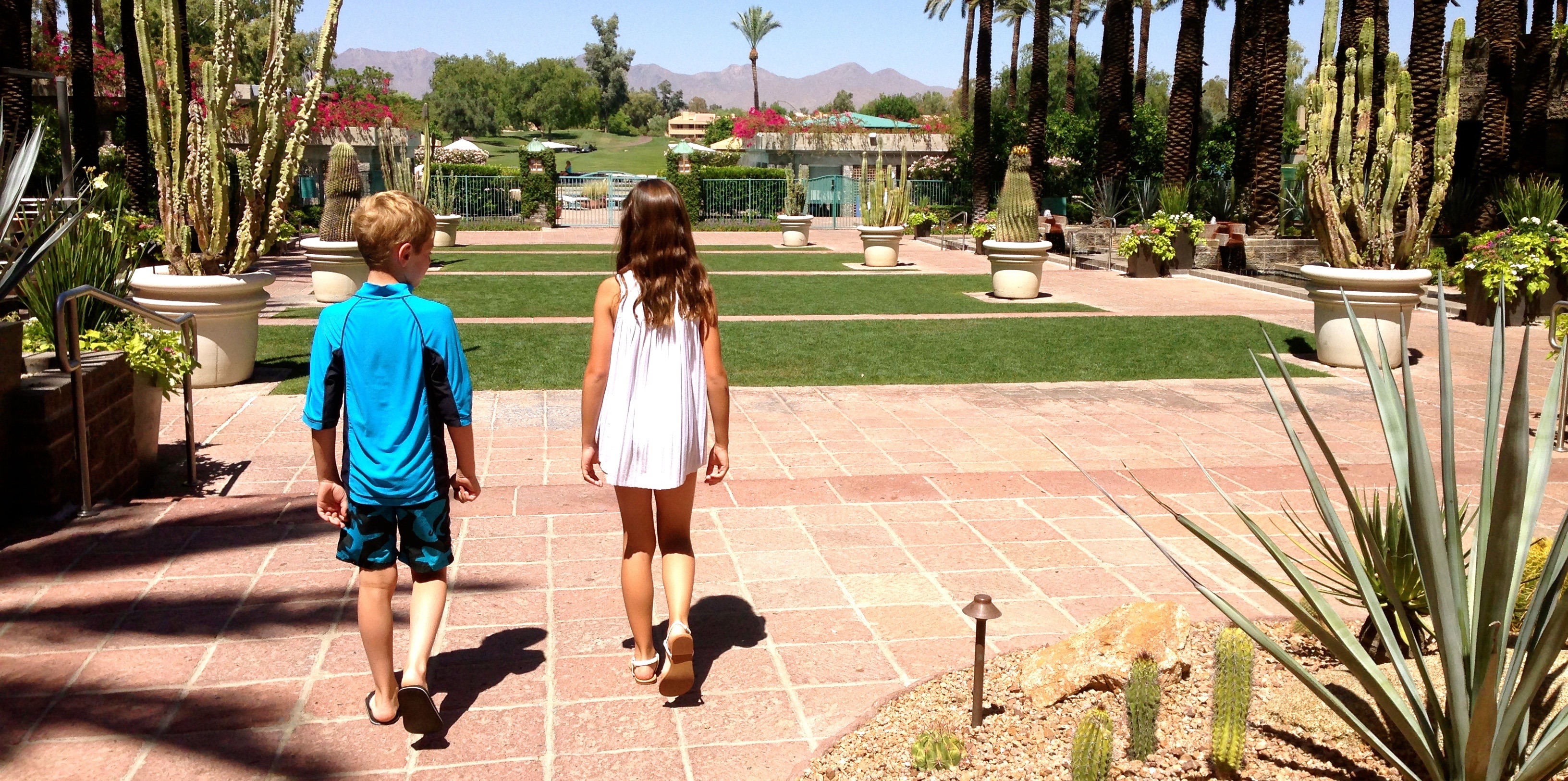 Just a hop skip and a jump from LA (5 hour drive) the Hyatt at Gainey Ranch was a pleasant surprise. It looked like a high-end adult resort with many fit people in tennis shoes and work-out wear enjoying the property but little did we know just how family oriented it was.  As we checked in I was handed a prickly pair margarita… how did they know what this mama needed? Oh, yes, it's the desert! We stayed in one of the large family executive suites with a huge couch — which the kids loved to sleep on! We found that this Hyatt did their best to offer us more spacious rooms since we were a family. Very cool I'd say! The dining room was so elegant and large — we felt like we were at home. The staff was prompt and very accommodating – you know kids, they always want more pillows and blankets. The kids dabbled in early morning tennis and then slid down the 4 story water slide dozens of times when the heat picked up. If you have little kids, the sandy beach pool is quite impressive. Most of the pools had handicap drop down chairs as well. It's good to know that Hyatt cares and that they respond to the special needs of all guests.
The biggest perk of all is the 24-hour market in the lobby (which offers Starbucks too!). As a mom who travels quite a bit with the boys, I loved this feature. It was a lifesaver. If you're a parent you know what I mean!  And just when you think this resort couldn't get any better…Doggie parking? Yes! Kids, dogs, 24-hour store, learning center, beach pool, organic food and amazing service. I'd say this hotel is worth checking out if you're heading for the desert!

FYI… At Hyatt Regency resorts, you get more for less. With the Hyatt Family Plan you can save up to 50% on a second guest room for the kids. They are giving you the value you deserve because they know it's the memories that matter!