Cozy in Keystone: A Colorado Family Favorite & Kids Ski Free at, Even During the Holidays!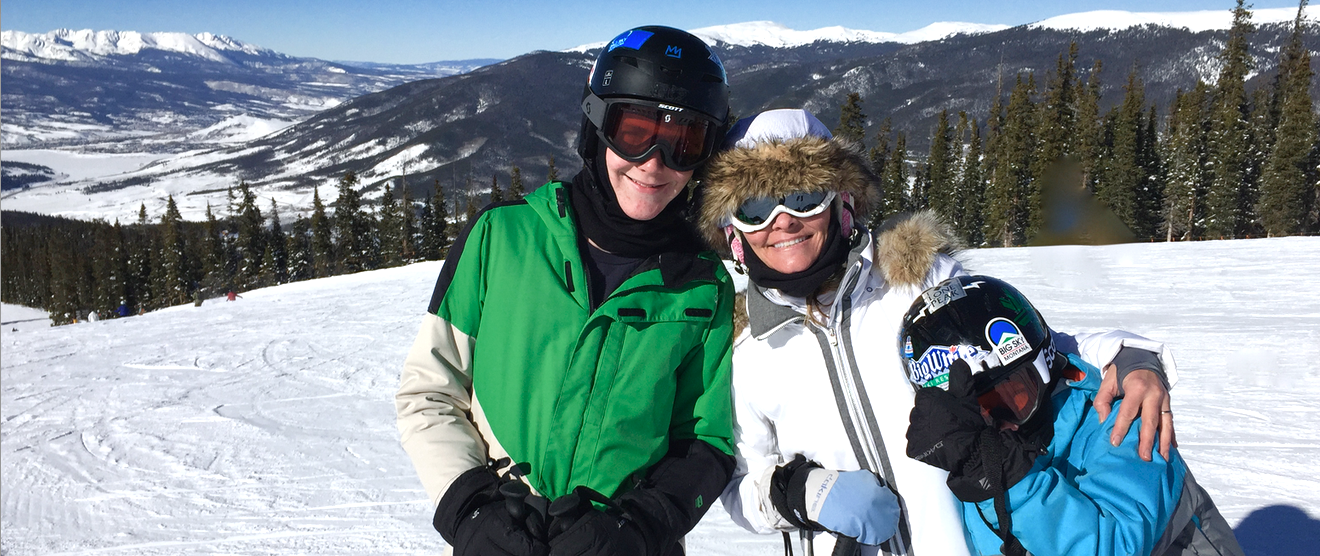 I am proud to be a wellness & travel blogger covering many resorts in the beautiful state of Colorado. I'd like to thank the Marketing and PR team for setting up complimentary accommodations and lift tickets. I only promote, endorse and support companies that have the highest standards in products and/or services that contribute to the well-being of families. This year we chose Keystone because it's one of the closest ski resorts to Denver (about 1.5 hour drive) and is the ultimate location for families to enjoy the allure of the mountains. If you have not been to Keystone Resort, it's premier for families, where kids are top priority, and has an industry-leading Kids Ski Free program. Since I am a skiing mama, I seek out mountains that accommodate a family's budget. After a long day of skiing or ski school your kids will never get bored. Almost every day Keystone Resort has unique family programming like the signature parade and fireworks, as well as special experiences including a Chocolate Tour with the resort's famous executive pastry chef, Ned Archibald. It's good to note The Kids Ski Free program contains no blackout dates or hoops to jump through, and guests' utilization of the program over the last four years proves that when it comes to ease, convenience and value, Keystone's Kids Ski Free can't be beat. Available every day for the duration of the season, including weekends and holidays, families need only to book two or more nights of lodging through Keystone Resort for any child 12 and younger to ski for free.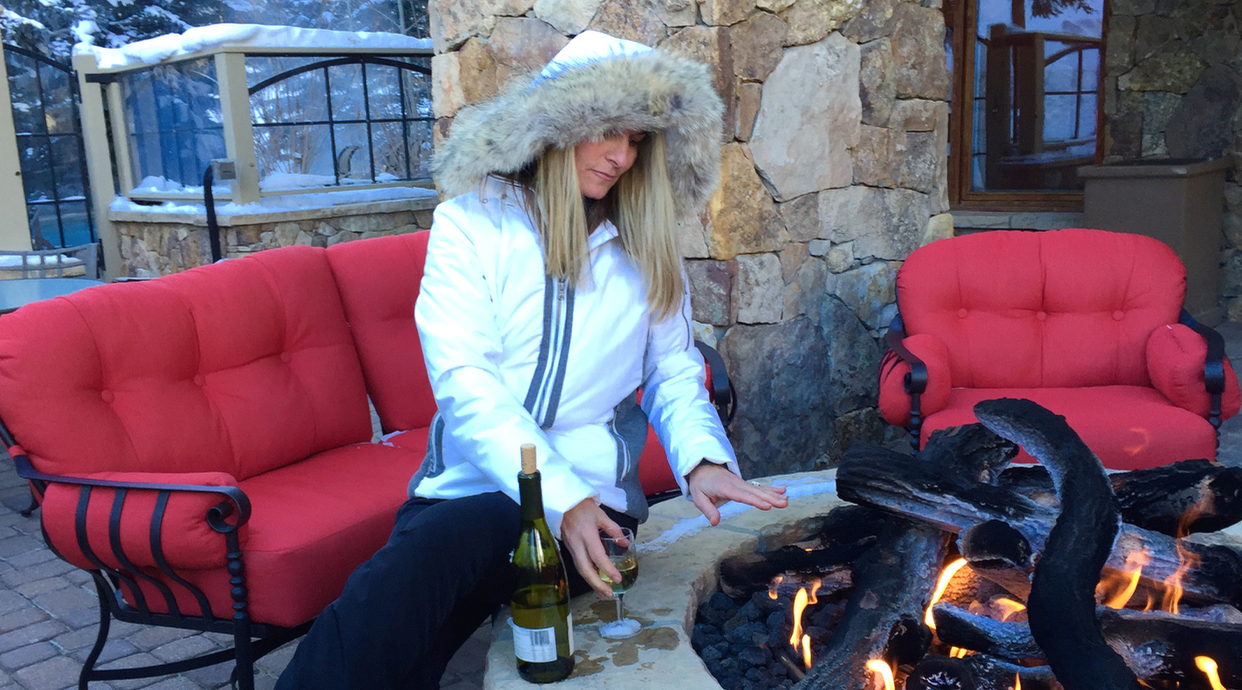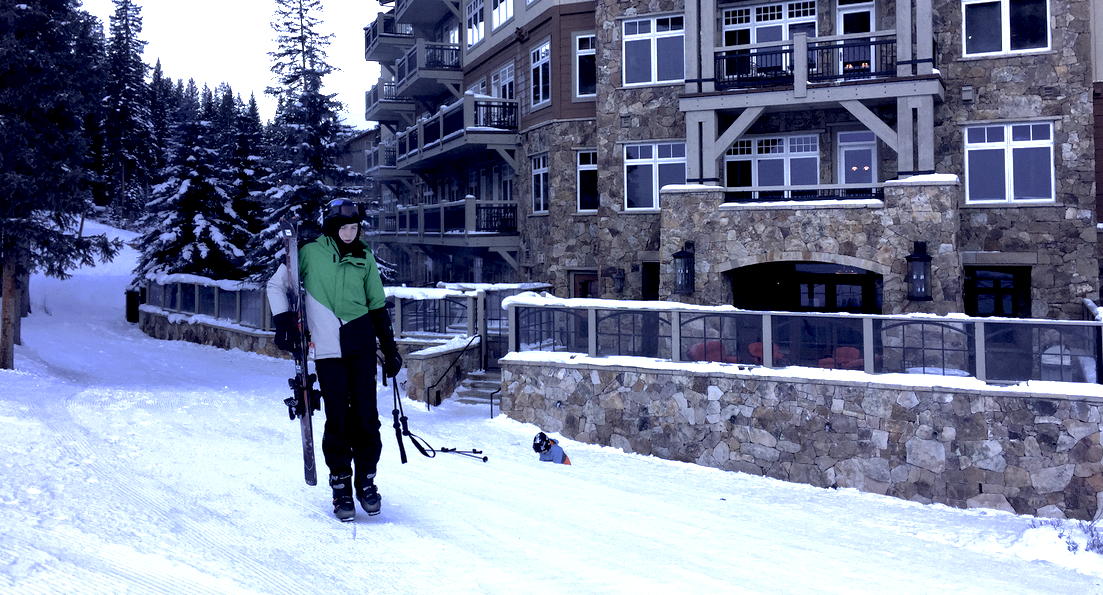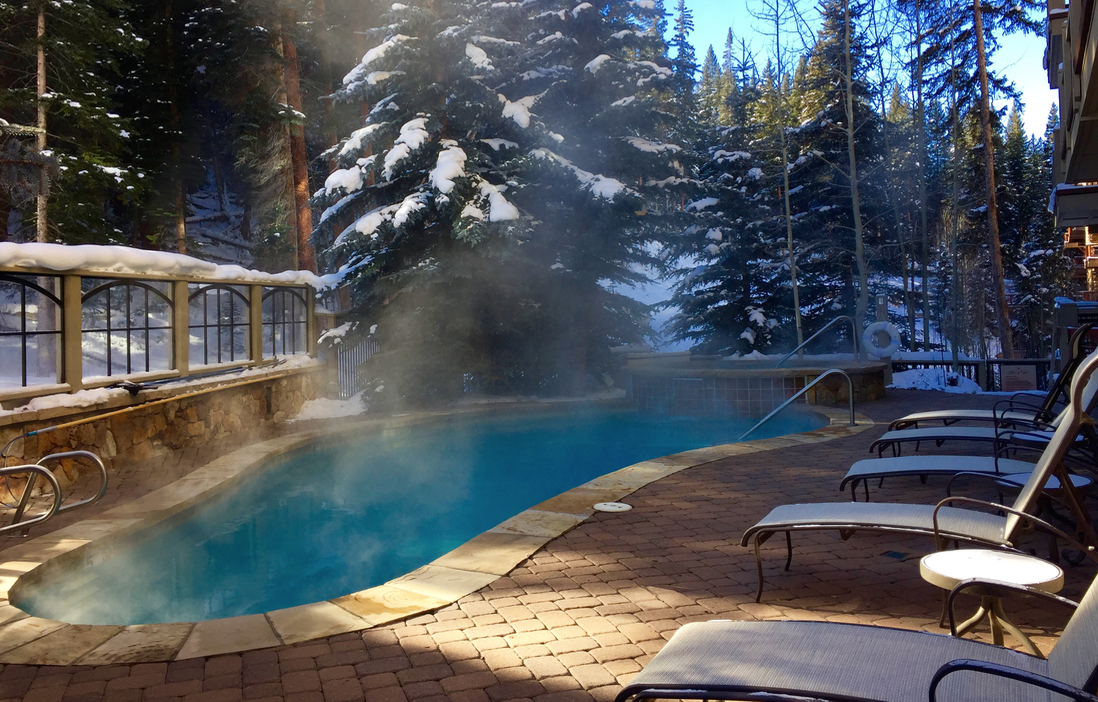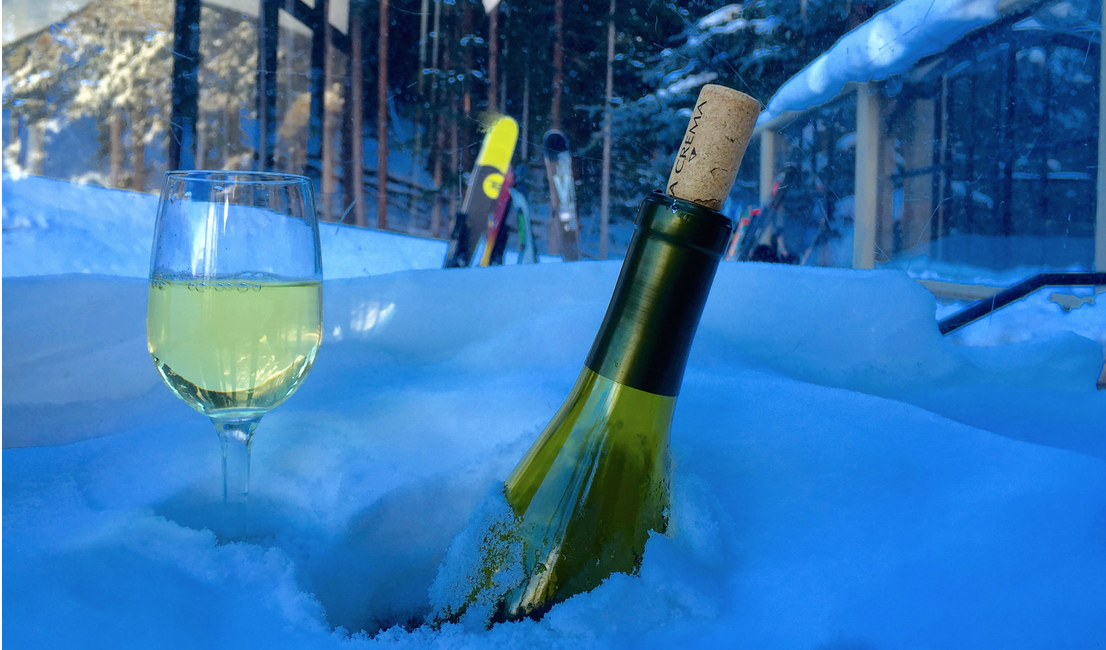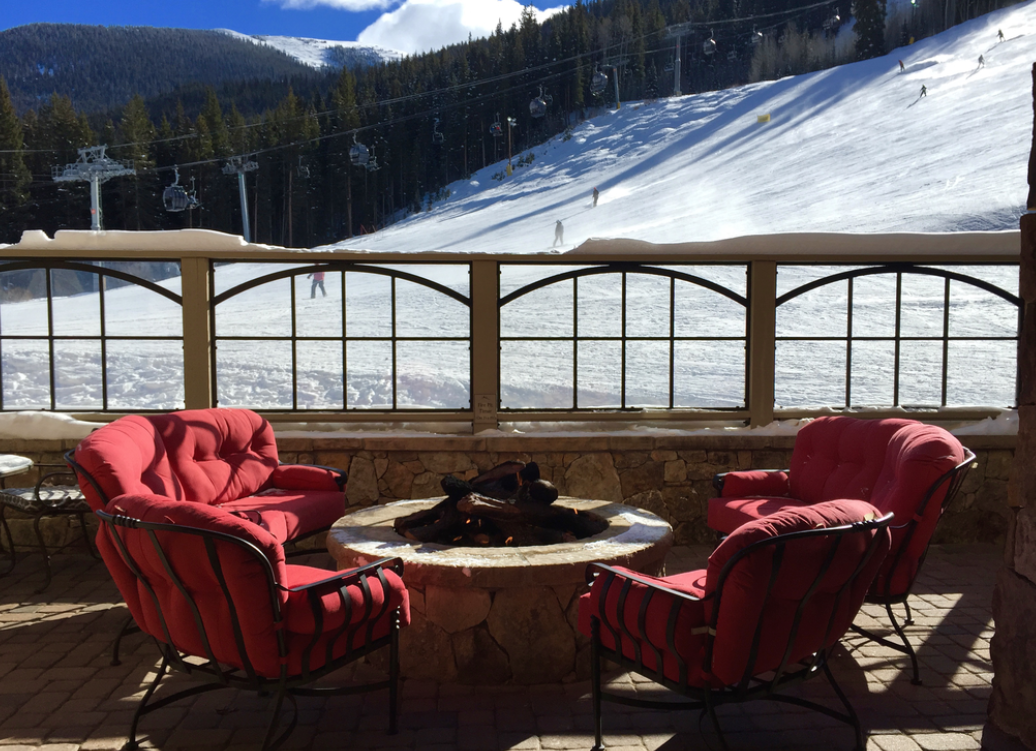 Slope Side Accommodations: Lone Eagle Timbers Condos
Interested in a Five Star type ski-in/ski-out property or a one of a kind luxurious condo? Look no further! The plush lodge surroundings of the Timbers is an world class, Rocky Mountain, top-scale condominium complex that captures the essence of a true ski-in/ski-out resort. This amazing property had beautiful furnishings, amazing ski area views and top of the line finishes. It was so posh to relax in the steam room, outdoor pool or hot tub with slope views or enjoy the convenience of a fitness room right in the lodge! The outdoor decks allows for plenty of sunshine to enjoy your apres ski! This was indeed a premier luxury resort property! The prices can run any where between $300 – $700 a night. When we come back we'll for sure book at The Lone Eagle Condos. It was miraculous to say the least. Each day we'd all ski back to our condo for lunch and in the evening prepare yummy family dinners in the gourmet kitchen. If you don't want to travel 'family style' and cook in your condo, you can take advantage of Keystone's wide variety of lodging options, with prices beginning at $155 for studio condos and $169 for hotel rooms. In our experience, getting a condo is the best way to do Keystone. The dining is a bit limiting in the village. If you like a rocking night-life, you may want to consider their sister mountain in Breckenridge.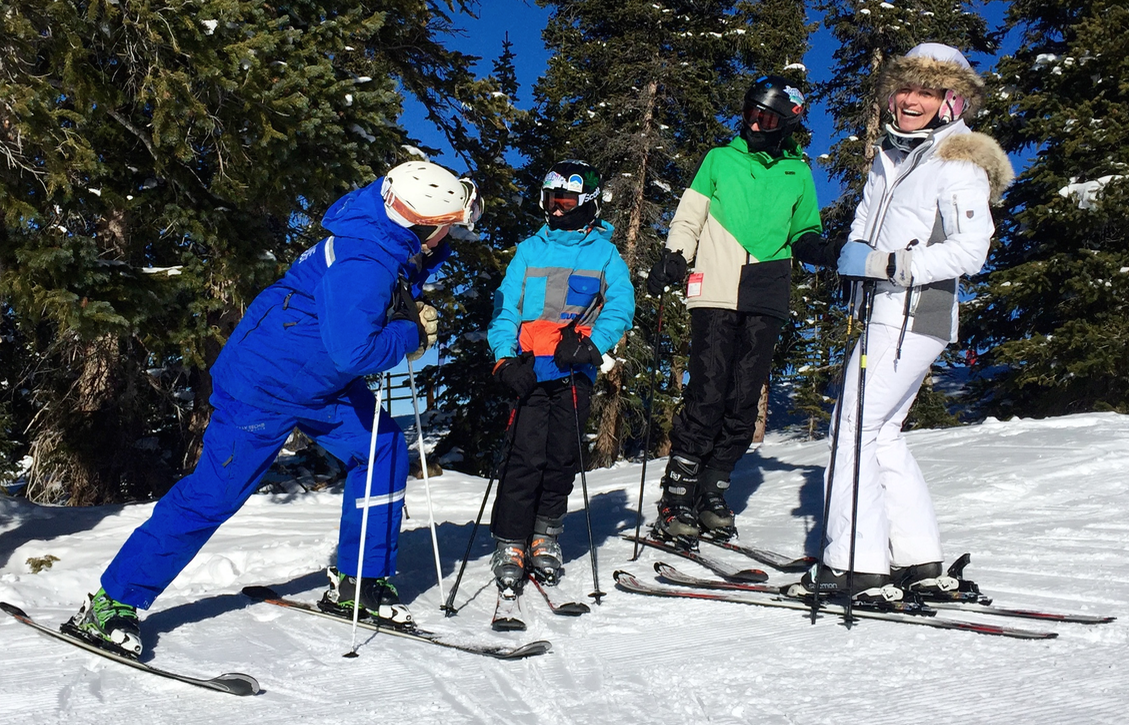 Private Family Lessons Allowed Us to All Ski Together!
When we travel, the kids typically take one day of lessons to improve their skills. This time we did a Family lesson. It was a delight to see my boys ski and not be away from them all day. Now that I know they are improving, they can begin to shorten their ski school days! Our ski instructor was Mike, he was so good with the kids! Whether your family is new to skiing and snowboarding or you're seasoned snow veterans, those looking to develop new skills, improve technique or explore the mountain like never before can enjoy a family private lesson together. If you have it in your budget, this family lesson is really fun. Plus your kids don't yell at you when you give advice because the instructor is there to give it! Taking advantage of shared on-snow time, bonding is just an added bonus to these specially designed lessons. Private lessons can be reserved for up to six family members (or friends) of similar ability, and with instructors who specialize in working with the whole family you can rest assured that everyone's ski and snowboard needs will be met on the snow.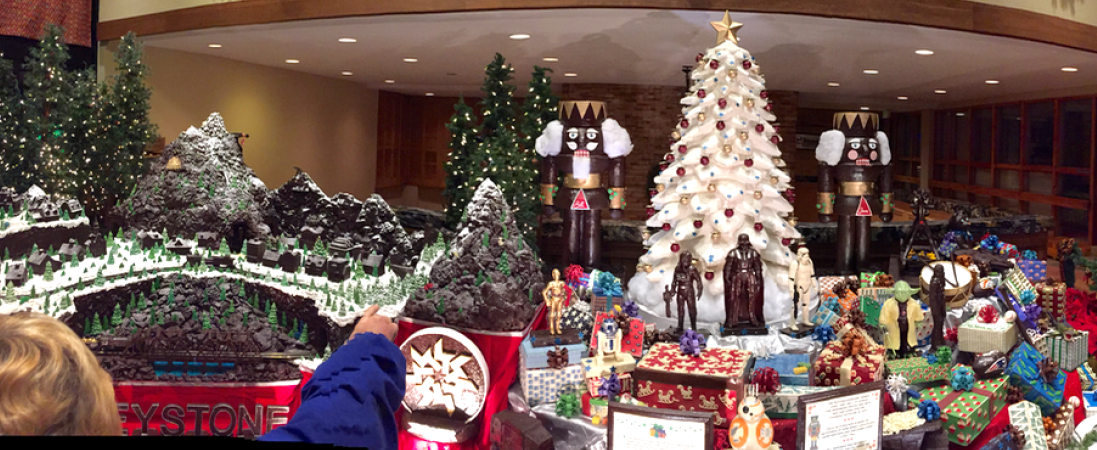 Keystone Chocolate Village Turns 20 & a chocolate Star Wars theme was added this year!
Keystone Executive Pastry Chef Ned Archibald utilizes 8,000 pounds of imported chocolate for the Keystone Chocolate Village and it has been a hand-crafted holiday tradition at the resort for the past 19 years. Featuring a working chocolate gondola, cascading chocolate waterfall, four-foot tall chocolate Christmas tree, and many other winter scenes, this chocolate masterpiece is free to attend. Located in the lobby of the Keystone Lodge & Spa from Dec. 18 through Jan. 3. We found the Bighorn Bistro & Bar very family friendly.  They offer fine dining in a relaxed atmosphere. Seasonally inspired, locally purchased, from scratch appetizers and entrees are the perfect complement to the breathtaking views of Keystone Lake and the Continental Divide.

Check Out The Giant Snow Fort at Keystone's Kidtopia + Awesome Family Programming
It's a festival designed just for them, a fun-filled, kid-friendly experience, but one that the whole family can enjoy!  Explore the ultimate Snow Fort at the top of Dercum Mountain, dance to live music in the plaza, have fun with arts and crafts, go Tubing for 80's Night, Enjoy free cookies at Dercum Square Ice Rink and join in on continuing education activities on and off the slopes.  There's always something fun going on for kids and their families! Kids of all ages, including those young at heart, can enjoy a variety of daily programming throughout the winter season, including the popular Saturday parade and fireworks. With the majority of Kidtopia events free of charge for all participants, creative daily programming is just another way Keystone continues to add value to the family mountain experience. 2015-2016 Kidtopia winter schedule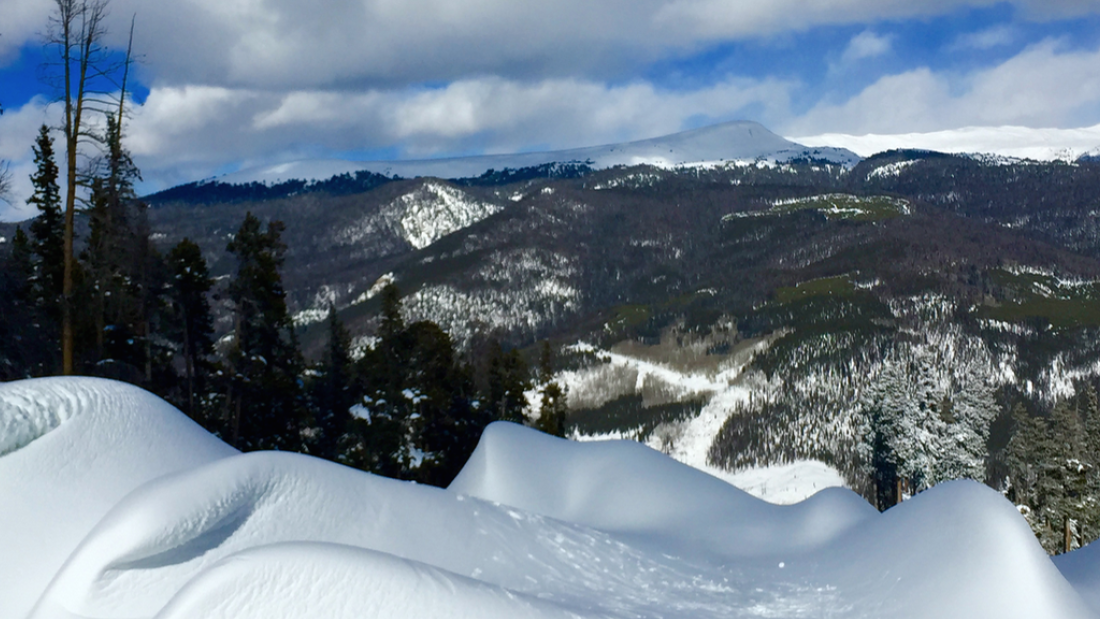 EpicDay Lift Tickets – Save up to 20 Percent & and be sure to DOWNLOAD APP!
When purchased in advance, lift tickets can be picked up at a designated EpicDay Express Ticket Pick-Up lane at each resort. Once the ticket is picked up, guests can keep their ticket and load it with more days online, avoiding a return trip to the ticket window. EpicDay Lift Tickets rewards advanced planning, even if the purchase is made while walking up to the resort, with the lowest price guaranteed and less time spent in the ticket line. Guests can save up to 20 percent off lift tickets at keystonetickets.com.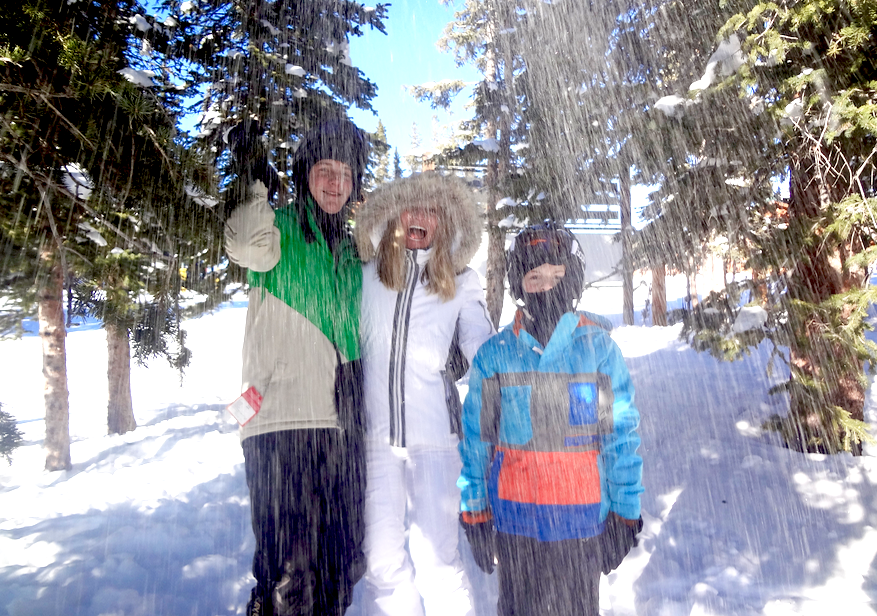 I WEAR FERA ON THE SLOPES! I'm proud to be an ambassador for
Fera Style
ski wear…when I'm out and about in the snow or skiing. I hope you take the opportunity to try some of their products out using my coupon code listed below…  You can see by the photos that their parkas, pants and sweaters are sophisticated, classy and very functional. The price point is good as all their merchandise is very high quality and in line with the ski trends each year. – See more
HERE.
If you use my discount code GOTOMOM you'll get 20% off any purchase at Fera Style!
Share the LOVE and keep up with Keystone here: www.facebook.com/Keystone, @Keystonemtn on Twitter and @keystone_resort on Instagram. Official video footage from the mountain may be viewed at www.YouTube.com/KeystoneColorado. Guests are encouraged to stay connected all season long by following #KeystoneMoments across platforms and sharing their favorite Keystone memories.
It was a pleasure and treat to visit this family mountain. I'd like to thank the Marketing and PR team for setting up complimentary accommodations and lift tickets. I will only promote, endorse and support companies that have the highest standards in products and/or services that contribute to the well-being of families.