Little guys love big mountains. Indulge in Big Sky Montana.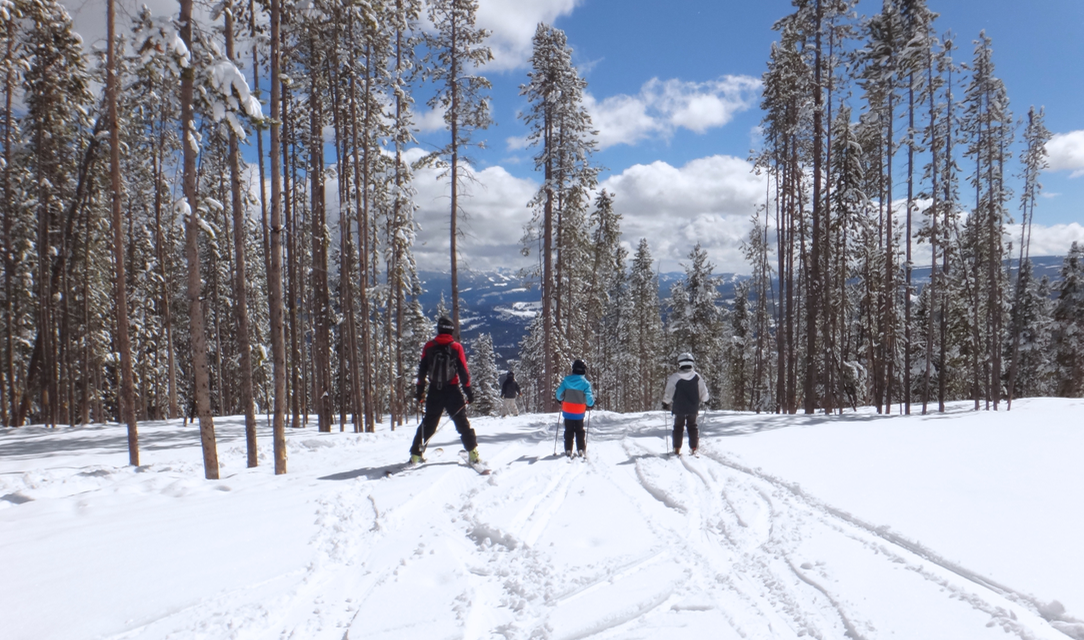 "I'm in love with Montana. For other states I have admiration, respect, recognition, even some affection. But with Montana it is love. And it's difficult to analyze love when you're in it."  John Steinbeck
The Montana hospitality and superb and luscious snow conditions are why we keep coming back. It's no secret that I have a deep love affair with Big Sky Country.  This particular trip had special meaning because my boys mastered their very first black diamonds!  This resort is the Biggest Skiing in America with an average, dry powder snowfall of 400" and now 5,800 acres of terrain for all abilities.  In addition to skiing, Big Sky Resort offers activities beyond two planks or a board with snowshoeing, ziplining, tubing and more. With a tight-knit base area, the Mountain Village offers close proximity to hotels, condos, cabins and individual homes, as well as, restaurants, shopping, and full service spa.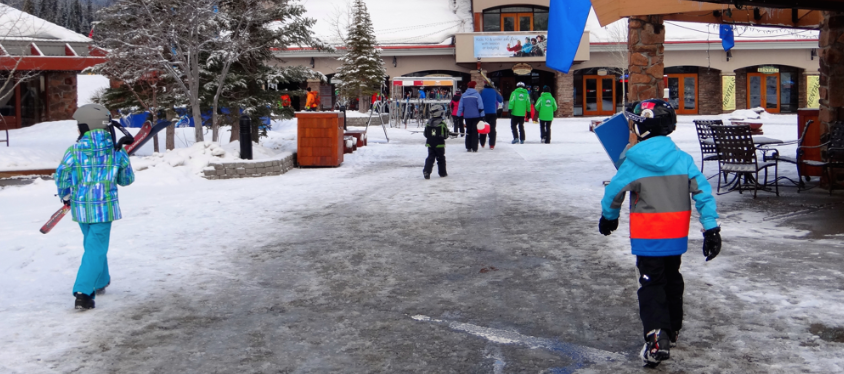 Top 10 reasons you should visit Montana if you're a ski family:

Kids Ski Free –  Yes it's true that kids 10 years old and younger ski FREE when staying with their family in Big Sky Resort's property managed hotels, condos, cabins and individual homes. That's a huge factor for those families who ski often.
Super short lift lines – Who likes lift lines? Blah. There's one thing you can count on is that you'll have long ski runs and very short lift lines when skiing Big Sky. It makes your investment all worth the while – plus the 'perm-a-smile' on your kid's face will convince you too that you picked the perfect family mountain.
Tiny ski town makes everything in walking distance – No hassle, all encompassing ski vacation makes it easy to travel with kids all ages. We've voted Big Sky as one of the most "Family Friendly" resorts in the West.
Mountain is vast – You'll gasp when you pop open the trail map for the first time. Skiers and snowboarders enjoy a wide variety of terrain spanning four mountains: 5,800 acres, 4,350 vertical feet of terrain, terrain parks, tube park, snowshoeing and world class cross-country skiing nearby.
7 terrain parks & more skiable terrain –  So much to ski!  The biggest skiing in America has new intermediate tree runs from the Southern Comfort high speed quad – our kids loved it. They are between Deep South and Sacajawea and between Sacajawea and El Dorado. Off the same chair lift, the intermediate run, Ponderosa has been widened for more carving space.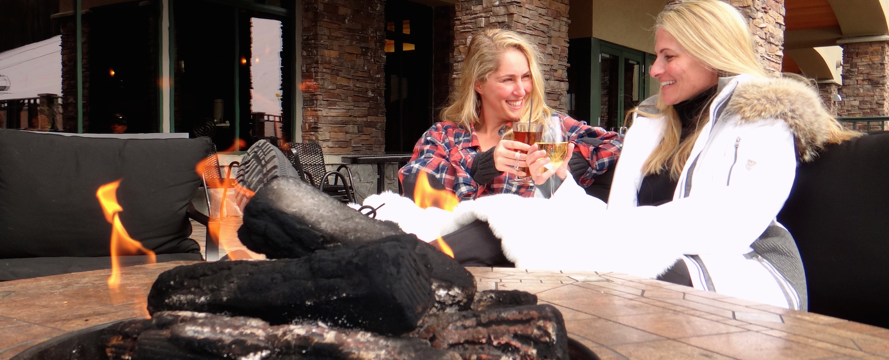 They do Apres-ski right –  Big Sky Resort caters to families by offering a Kids Club during après ski 4pm – 6pm so mom and dad can enjoy a hot buttered rum while kids engage in various fun crafts and activities.  Kids Club is free! How awesome is that?  They also have daycare at Lone Peak which is slope-side for children 6 months to 8 years old offering a safe and fun environment for children to play and interact together while parents reinvigorate themselves while skiing the glorious slopes. My Mom's Pick for Arpes-ski: When the boys did their last run the moms and I would hang out at our favorite places with spectacular views. At mid mountain we enjoyed Everett's 8800 Mountain Top Restaurant and at base of mountain we clinked glasses on the patio of the Carabiner (in the Summit Hotel).

Family lodging perfected – Big Sky knows what families love! There are plenty of heated pools and bubbling hot tubs no matter where you stay.  The charming lodging and amenities fit every type of budget – Big Sky Resort has over 700 lodging places to stay. Condos are clean and classy and range from the quintessential family condo to luxury mountain homes. We preferred the convenience of the Village Center and enjoyed the fully equipped condos at the Shoshone Condo Hotel.
Zipline and Tube – Big Sky Resort offers two great zipline tours with our Adventure or Nature Zipline Tour. The Adventure Zipline Tour is truly an adventure, beginning with a ride on the Explorer chair lift and consists of 4 lines ranging from 800-1500 feet in length.   TUBE PARK is located within walking distance on the slopes from the Snowcrest Lodge and Village Center. The lights come on and the Tube Park springs to life featuring a 300-foot long tube park accessed via the Bear Basin Magic Carpet.
Easy travel to resort – plus a river runs threw it – Most major airlines fly nonstop to Bozeman and the scenic drive is well worth the ride up to the resort. Your kids will marvel at all the wild life you'll pass and at the river that leads you up to Big Sky.
Montana Dinner Yurt – is an out of the ordinary dining experience featuring a snowcat ride, live music, sledding and a bonfire. Details: Check bigskyresort.com for operator contact information. Reservations recommended. They do have dining for all occasions – Whether you're a couple, family or on a guys/gals retreat there's a variety of dining to suit your needs. We love that at the Shoshone, you could access food very quickly.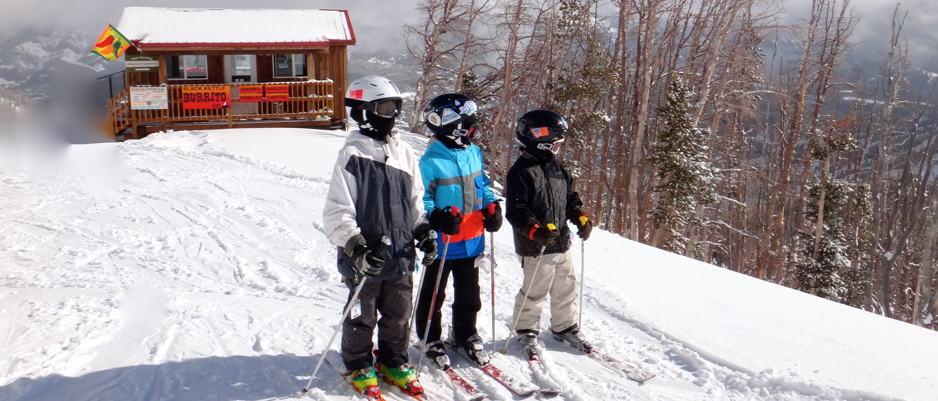 Kids pictured above are taking their  BURRITO / TAMALE run! Oh Yes! Perched at 9,160 feet on the slopes of Lone Peak at Big Sky Resort, this cute little shack they call, Black Kettle Burritos is a must stop. Indoor and outdoor seating offer unbelievable views while enjoying our awesome breakfast and lunch burritos, tamales, and assorted snacks, treats, coffee and cold drinks. Located at the top of Swift Current lift on the ski run Jay Walk.
Be sure to follow BigSkyResort for up to date happenings on Twitter @BigSkyResort #bigskyresort and on Facebook!
The Go-To Mom was given a complimentary stay at the resort. Kimberley Blaine only supports products and services that contribute to the overall well-being of families and children.