The Buccaneer is ST. Croix's Family Friendly Virgin Island Paradise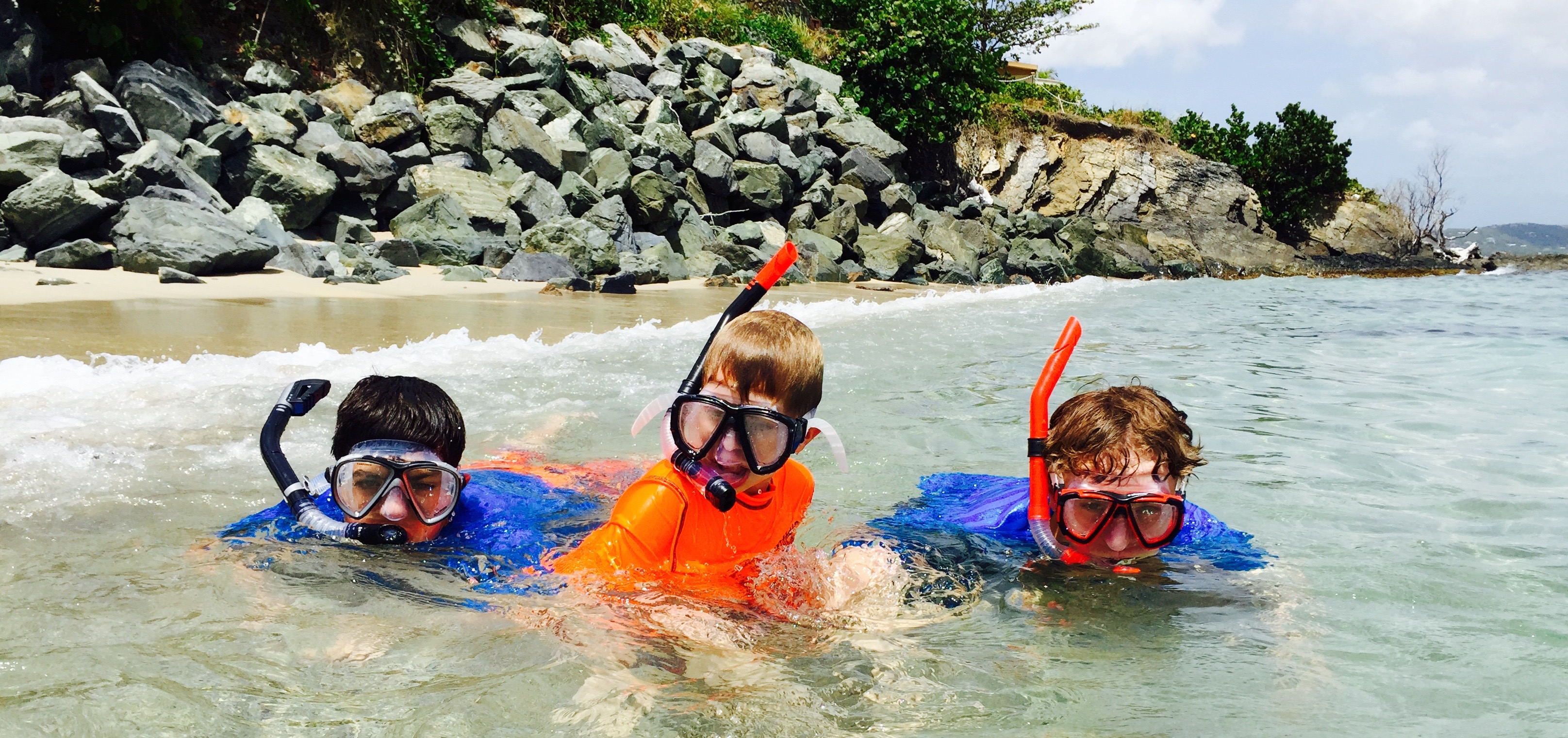 "The summer is an ideal time to visit our family-friendly resort in the U.S. Virgin Islands. With 340 self-contained tropical acres, The Buccaneer is a natural playground for all ages. It brings our family great joy to see families enjoy the natural wonders of St. Croix."    – Elizabeth Armstrong, The Buccaneer's owner and general manager
Want the Most kickback American Caribbean Vacation with Your Kids? Consider St. Croix's most popular resort, The Buccaneer. The flight was very easy from Los Angeles, that's why we picked this location. The Buccaneer is a fully relaxed family friendly property and will have your kids feeling confident and independent! All the kayaking, basketball, tennis, snorkeling are all in one area so you can watch the children and still get some solitude while sitting on the beach sipping ice tea or rum punch. It's just the perfect layout for families with kids. We mingled with babies, toddlers, school-aged kids, teens, college students and grandparents while enjoying our stay at the Buccaneer.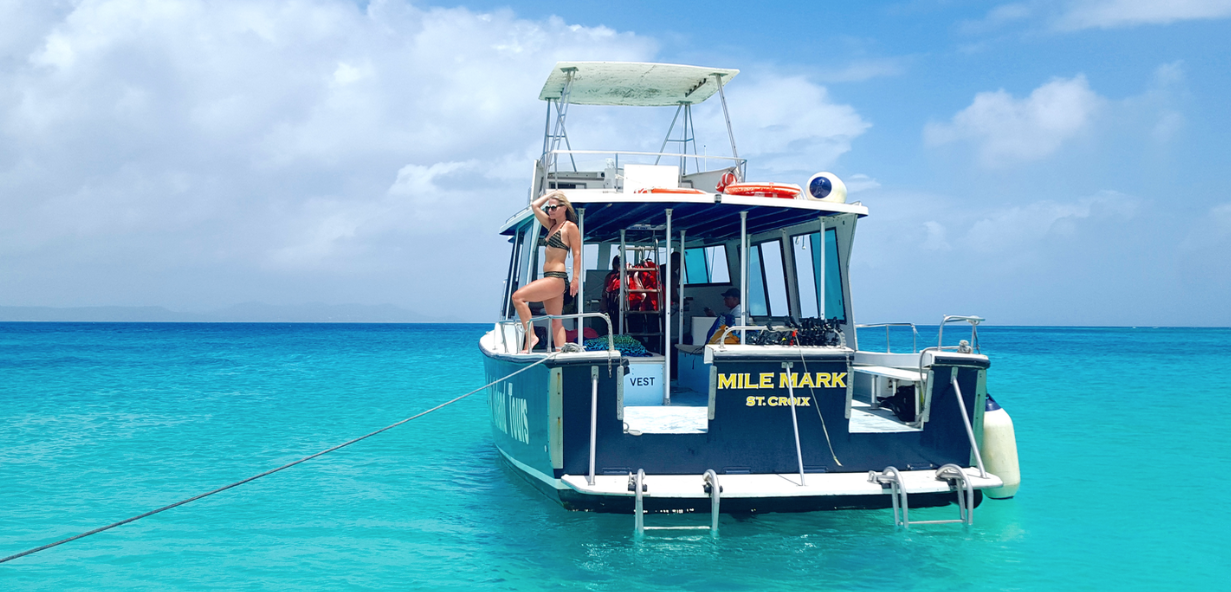 Boat is docked on Buck Island… When you go you must book at half day or full day Snorkel Tour with the hotel's concierge. It was so fun. We packed food, wine, juice and snacks, got aboard the boat and took a 25-minute cruise to Buck Island! We docked, got a snorkel tour and then anchored on the most picturesque beach. We had an hour to walk the white sandy and crystal water beach with the kids. Talk about eye candy! It was so serene.
We also love that The Buccaneer Resort is the longest-running resort in the Caribbean and one of its most family-friendly, according to both Caribbean Travel & Life and Forbes magazines. The resort is owned and managed by the granddaughter of the founders who opened the Buccaneer as an 11-room inn in 1947.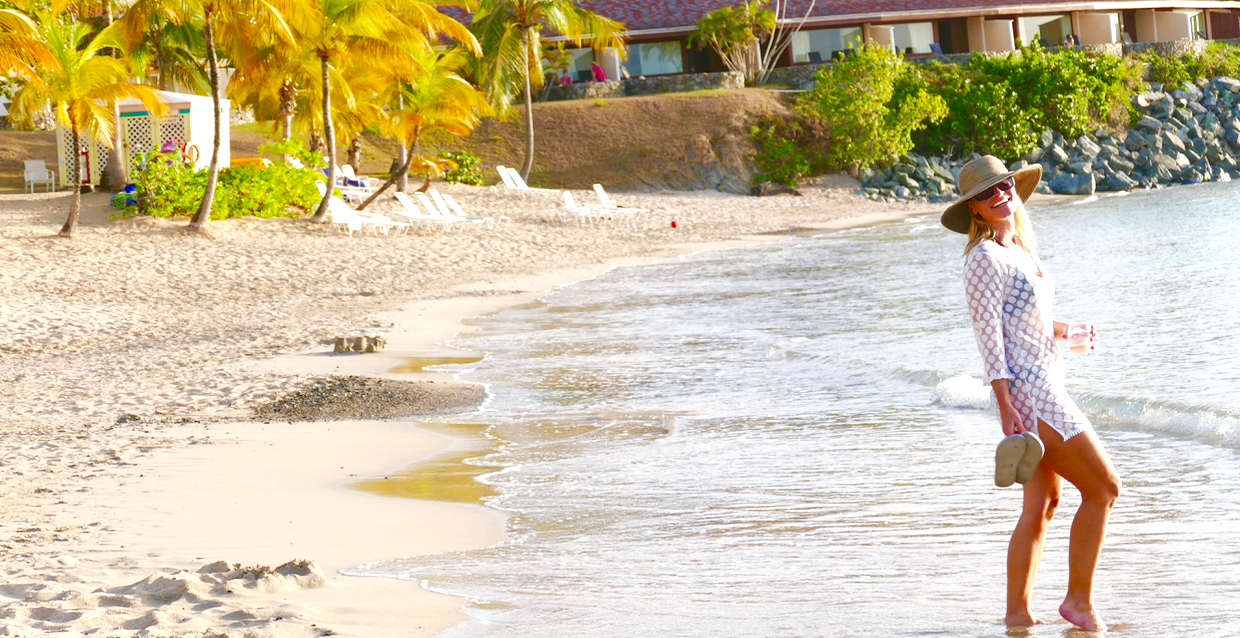 My thumbs-up list includes:
The promotion of endless delicious Rum on the island.
The ability to wake up, step out your back door and stick your feet in the Caribbean.
You can take morning hikes around the safe and private property and get your daily work-out in the great outdoors.
The beach front rooms had great air ventilation/air conditioning, which can be challenging for resorts who are oceanfront – our room was always fresh.
Cold carafe of water replenished in your room each day.
If you smile I guarantee you'll get friendly staff at each meal! They are so sweet.
There are two wonderful private beaches for kids to swim and play with free water toys/rafts & snorkel equipment – there are no waves so our kids spent anywhere from 4 – 7 hours in the water!
The basketball and tennis courts are also beach front.
If your kids are tired of hanging out with you there's a full day complimentary Kids Camp for kids 4 – 12 years old!
Free 2-hour scuba lessons in pool on Tues & Thurs.
The general manager's cocktail reception every Tuesday eve, and her nature and history tour of the resort.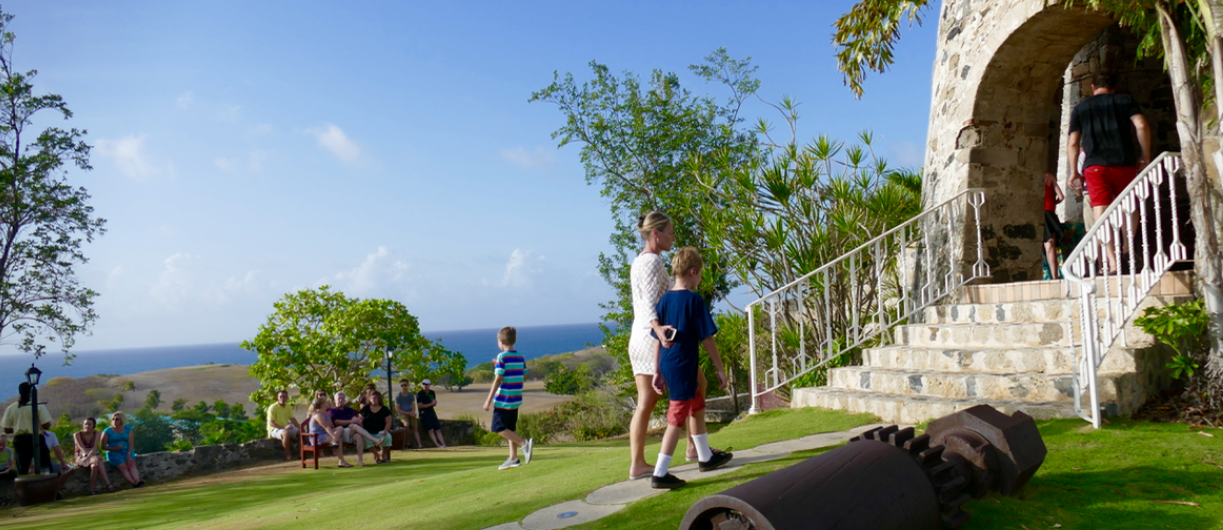 As seasoned family travelers we always look at packages… The packages at the hotel are pretty hot. Some options for family vacationers include a package featuring connecting oceanfront rooms, a car for the length of the stay, and a range of flexible accommodations: from a cottage exclusively reserved for families, to a new two-bedroom, three-bath suite that sets a new standard for tropical luxury. A Beach House that can accommodate up to 12 or more.  The complimentary Kids Camp is amazing because it creates a "separate but equal" resort experience for kids. The value-oriented "Family" package, one of the Buccaneer's "Legends & Luxury" collection of packages, offers two connecting oceanfront rooms with private patios, a car rental for the entire stay, and a welcome amenity. Another popular choice for families is a charming two-bedroom, one-bath Family Cottage, offering privacy, value and a convenient location between the Great House and beaches. Each cottage has a patio that fronts a spacious lawn and sea views.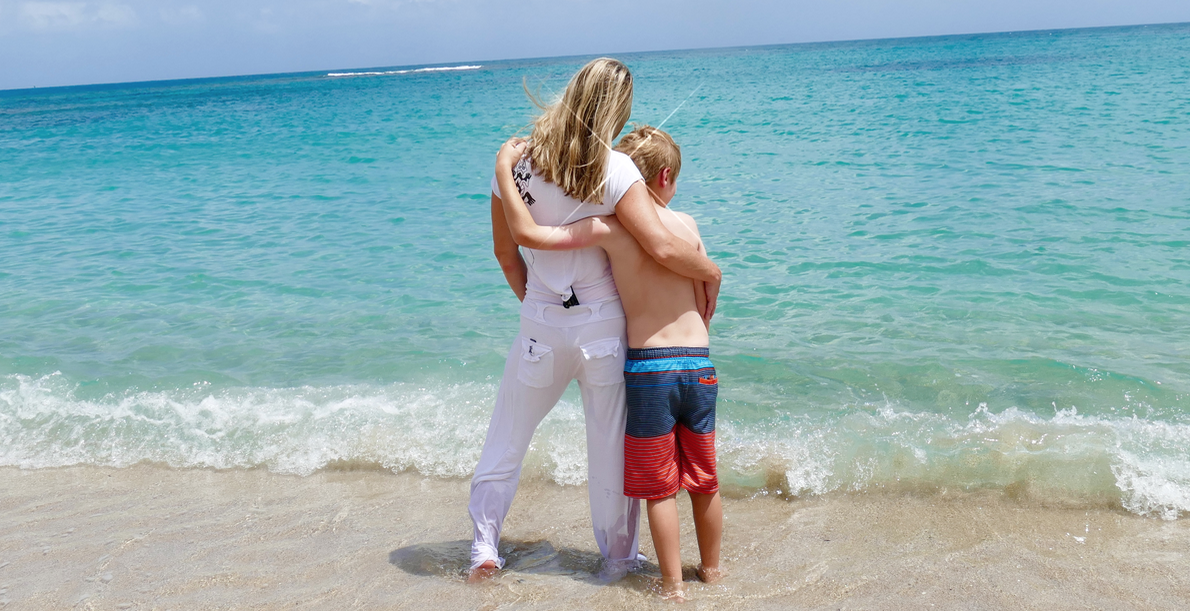 An ideal choice for family accommodations is the Buccaneer's two-bedroom, three bath Ficus Suite.  We didn't stay in it… but it's located steps from the beach with direct sea views, the expansive suite has been completely renovated: from its new marble floors to its new, vaulted wood ceilings. Designer-decorated, it features a full kitchen, combined dining and living room, a foyer/sitting area/sleeping area, wide balcony for dining and sunbathing, custom-created works of art and accessories, and widescreen panel TVs in every room.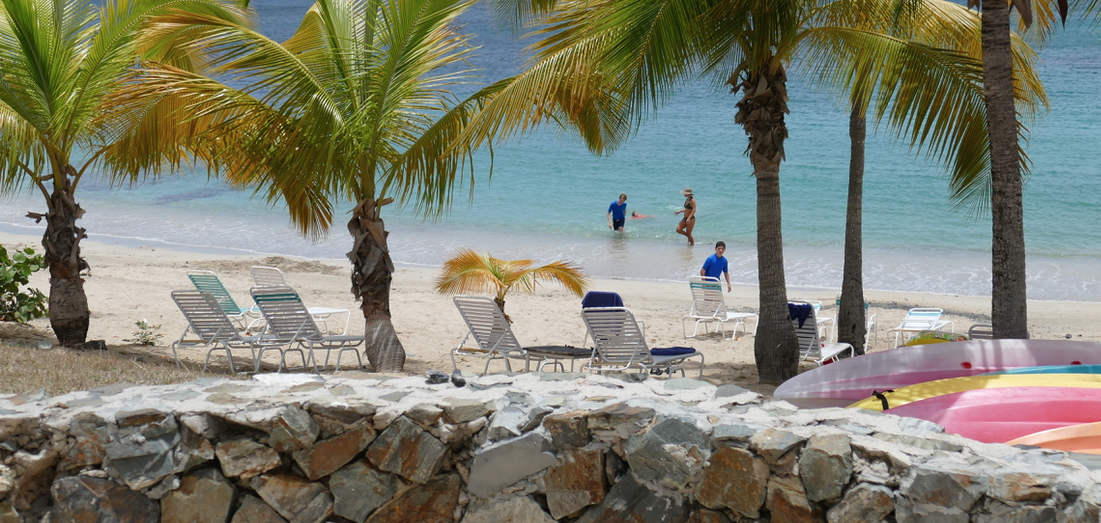 View from our Deluxe Ocean Front Room Patio
Tips to get you prepared for the Buccaneer visit:
Bring organic bug repellent, all dining is outdoors and you'll want to protect yourself, the bites can be pretty insane.
If you're vegetarian or vegan, request your menu in advance so you'll feel more at home with your meals.
St. Croix has natural astounding beauty but be aware that the entire Island is rough around the edges when you're driving around town.
Just know that there is no food or beverage service on the beach, but you can walk up to café and bring food down to your chair, so kids can swim all day!
Tips are very important. Bring lots of tipping cash and share the love.
Island vacation are just the best for families. Being able to swim, play and relax with my children far away from home was well worth the trip. Your kids will feel very home here. My kids were always easy to find and I will cherish this type of tropical-easy-going travel that the Buccaneer provided.  Traveling with my monkey boys feeds my mommy soul.
The Buccaneer is recognized by the National Trust as a Historic Hotel of America, and is a partner in Stash Hotel Rewards, a rewards program offering free nights at independent hotels throughout the United States. For Buccaneer reservations call 800-255-3881 or visit TheBuccaneer.com.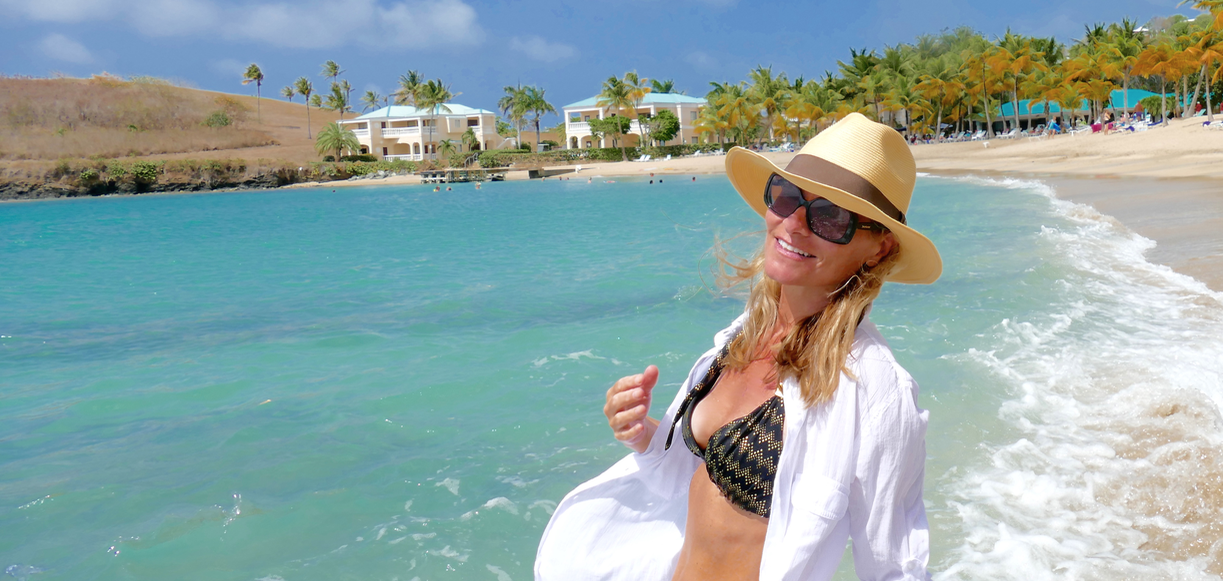 The Buccaneer has provided our accommodations, and paid most of my expenses while I was there.  I am covering all my kid's expenses. The point of the trip is to bring traveling families to the island to talk about what we see and how to experience the Island; my primary focus is travel with kids. No one has told me that I cannot post negative information. No one has told me that I must say positive things.  I am always as objective as I can possibly be.