Solmar Resorts — The most unique location in all of Cabo to vacation
I go to Cabo to set my heart free. It warms my body and touches my soul.
Located on Baja California's most exclusive and private beach, this charming Mexican hacienda style resort is but a few steps from the famous Cabo San Lucas natural arch. It is the perfect location to relax and soak up the gorgeous ocean view or indulge in fun water sports. The location of where we stayed called is called the Playa Grande and it's a block or two from shopping and fine dining in downtown Cabo San Lucas – and also gives you plenty of access to it's truly breath-taking beach. The Playa Grande Resort features all suites with balconies and cute kitchenettes. The large bathrooms are upscale and they all have granite countertops. Staying here was very easy and convenient.
Just when I thought I was completely won over by the emerald green crashing waves, I had the chance to go the roof-top to visit The Ridge Pool and Bar. Wow, it was spectacular! One side had views of the Marina and the other side had vast ocean views. I was speechless for quite sometime as it's beauty was so rare and intriguing. How did this hotel get build on this huge rock? The resorts location is truly outstanding. Each morning I had to make the decision of where I wanted to hang out — at the roof top pool or on the calming sandy beach. What a tough choice right? Watch my footage below to see just how gorgeous Cabo is from where the Solmar Resort is located.
One of the great perks of traveling to Mexico are the rates are so reasonable for you get. When I'd buy something from the restaurant or resort store I was pleasantly surprised that it wasn't over priced. The Playa Grande is good for families. Grand parents, kids and mom and dads were everywhere. I can tell generations of families make this place their Cabo destination spot.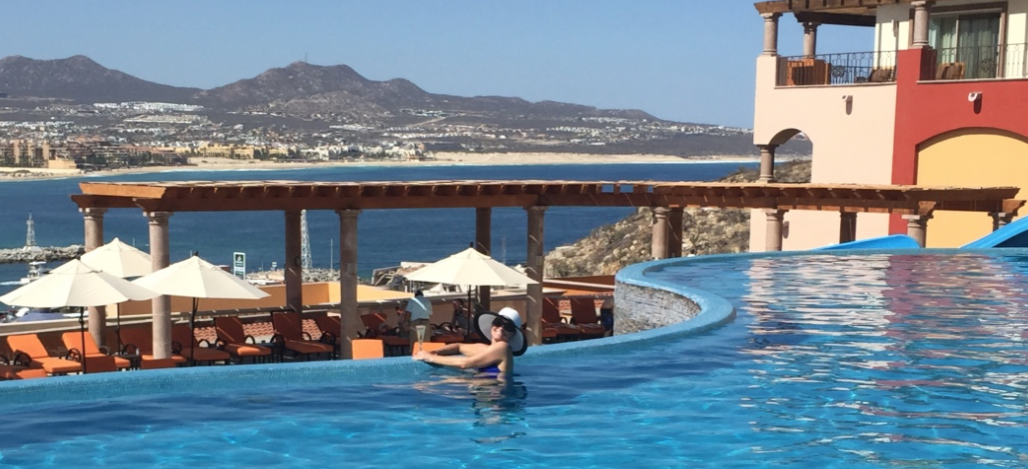 If you want more romance or a bit more upscale the Solmar Resorts has another property called, Grand Solmar – which was under construction when we visited. This property is an all-inclusive private beach resort. You won't find vendors trying to sell you anything while you're on the beach. The pool was clearly the main highlight – it literally is few hundred feet from the ocean. On our last day we dined at the Grand Solmar at La Rocca. The food was unbelievable and the chef's presentation was impressive. We ended the evening with a piping hot Mexican coffee and yummy desserts as we watched the moon light up the sea. It was such beautiful evening – next time we'll for sure try out the Grand Solmar.

The Go-To Mom team was given a complimentary stay at the resort. Kimberley Blaine only supports products and services that contribute to the overall well-being of families and children.