Ski the ultimate wilderness of Mt Bachelor: Peace, quiet and solitude is what you'll get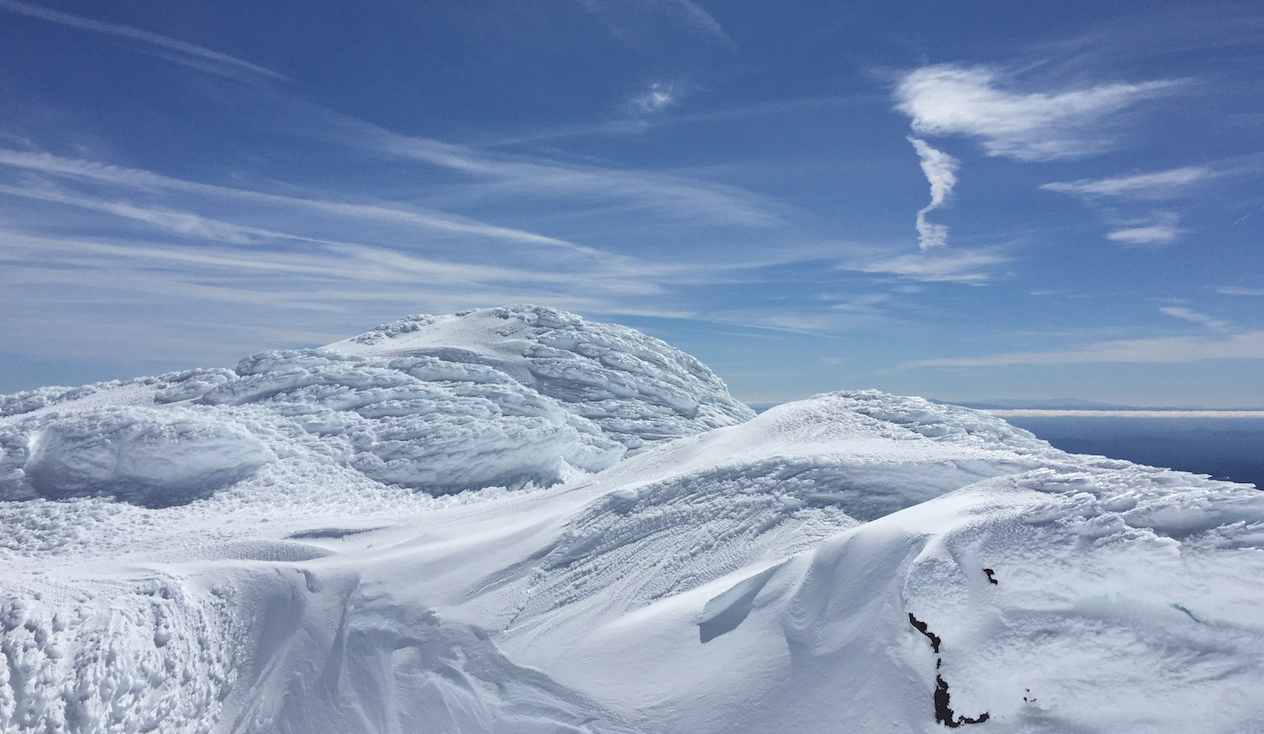 The talented marketing team at Mt Bachelor has lured me over to this majestic ski mountain! They also provided our accommodations, and paid most of my expenses while I was there.  I am covering all my little snow boarder's expenses. The point of the trip is to bring traveling families to this beautiful natural mountain & to talk about how to experience it's uniqueness; my primary focus is travel with kids. No one has told me that I cannot post negative information. No one has told me that I must say positive things.  I am always as objective as I can possibly be.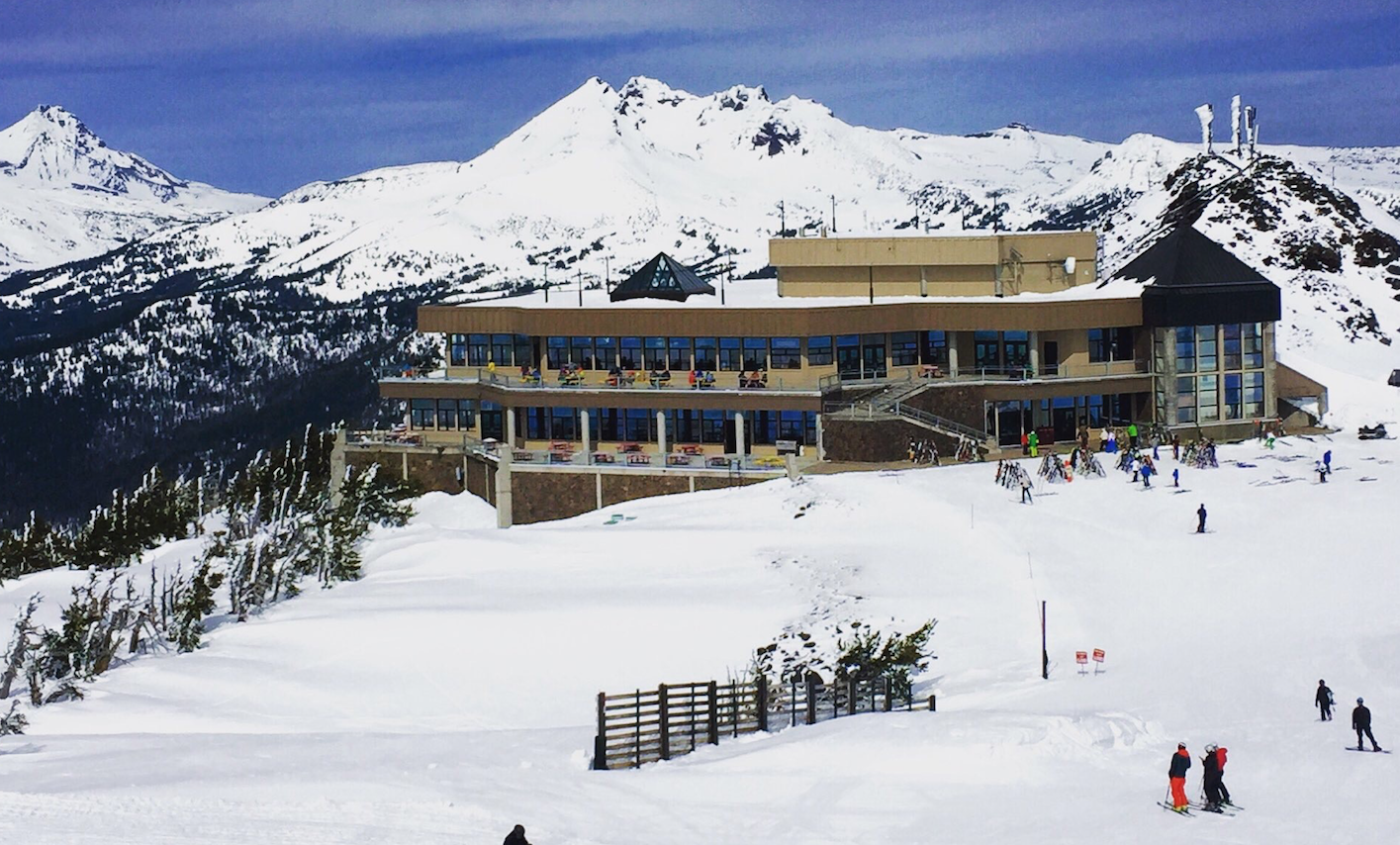 Tweeting, blogging, marketing projections, metric reports, kids, dogs, a mom's life – it's 100 miles a minute in my world. Really. That's why we fell head over hills for this easy-going –unpressured, relaxed and very outdoors-centric ski resort. The city of Bend calls it Mt Bachelor, we call it the Ski Volcano! Mount Bachelor is so called because it "stands apart" from the Three Sisters, a group of three volcanic mountains that are northwest of Mount Bachelor. But no worries…the last eruptive episode occurred approximately 8,000 to 10,000 years ago! My boys are eating this stuff up! The resort is one of the largest in the Pacific Northwest with a skiable area of 3,683 acres and a vertical drop of 3,365 feet. Nice right? Mt. Bachelor is big. In fact, measured by skiable terrain, it's one of the six biggest ski areas in the United States.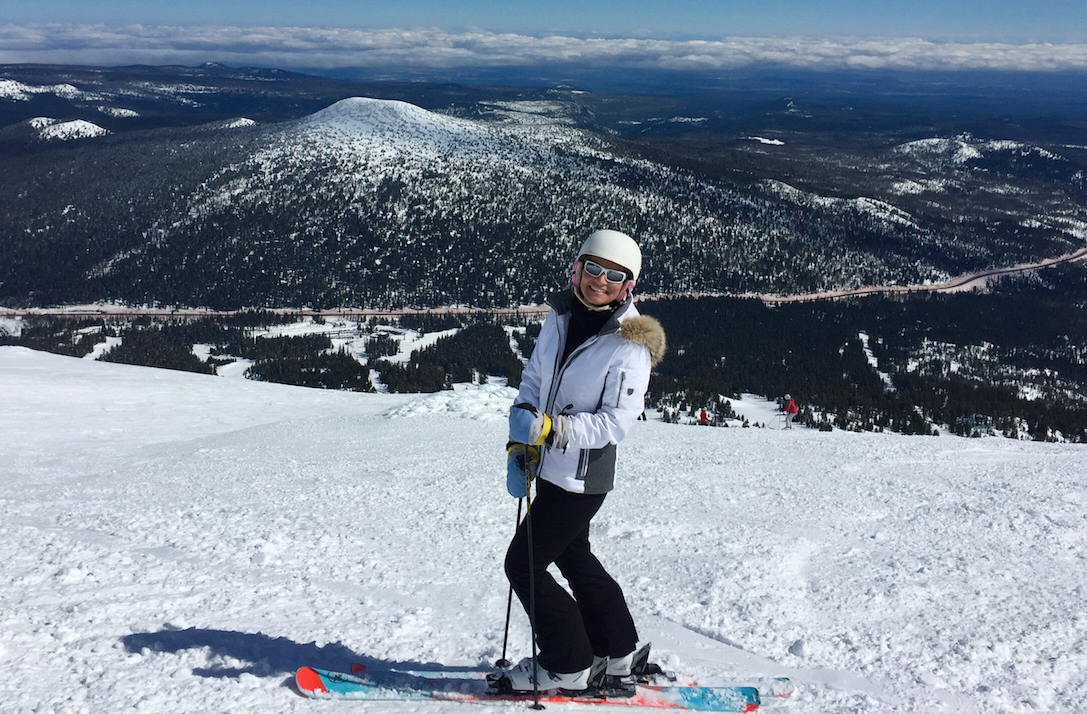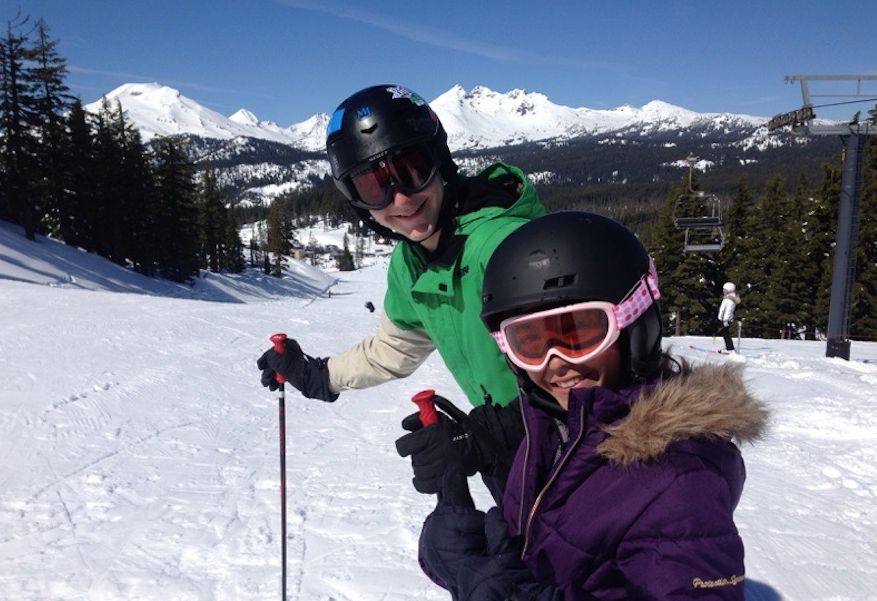 BRING THE FAMILY!
Mt. Bachelor is for all types of skiers. My son is an intermediate skier who skied with me most of the trip and my niece,  Sophia brushed up on her beginner skills in their ski school. The instructors were so awesome to work with. They were really quite wonderful with our kids. Kids 12 and under ski FREE the same number of days as their parents with the advance purchase of a 3-or-more day adult lift ticket during the winter operations.  One free kid's ticket per paid parent.  How awesome to take advantage of this offer while the kids are out of school for the holidays!
FRIENDLY LOCALS make it all just perfect.
I have to shout out the amazing employees on the mountain at the Gravity Sports Shop.  I ski quite a bit and know just how busy ski resorts are at times, employees can feel stressed out trying to meet the demands of the clientele.  But this mountain was so cool and kind. Kat pictured below took care of us. Each morning she greeted us with a smile and made sure we had the perfect ski package for the day's conditions. We loved her- her smile and her great attitude!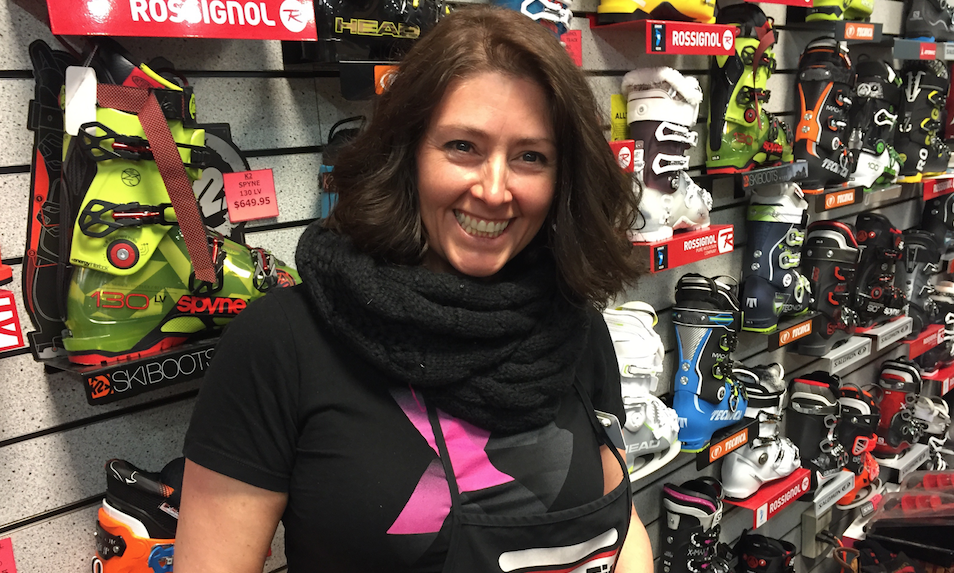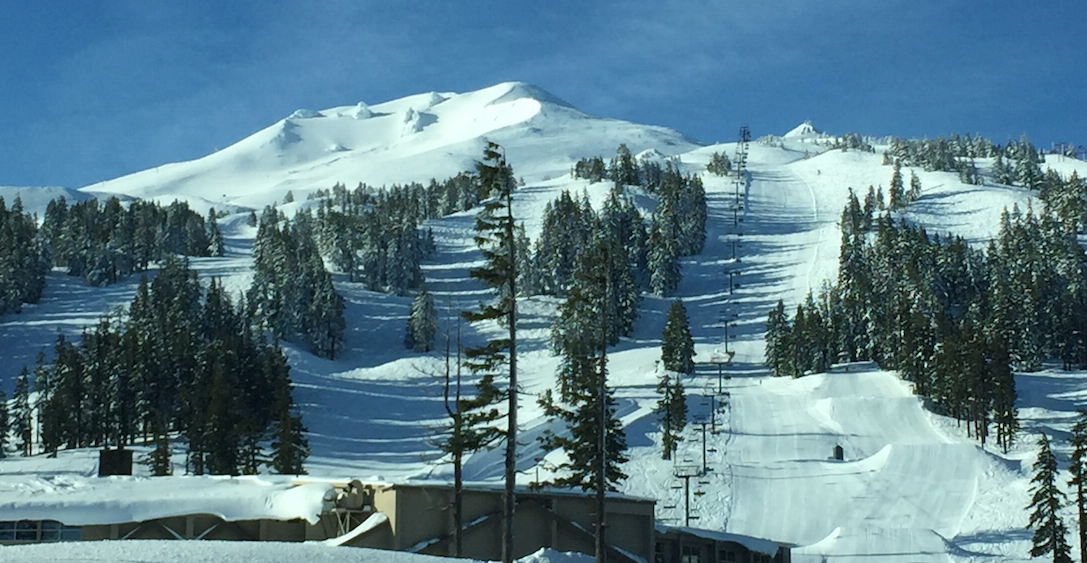 Another reason to choose this glorious mountain is the ski ticket pricing is much lower than most resorts! And they don't get the crowds that most of the other large well-known resorts do. So there's a spacious feel to skiing and riding Mt. Bachelor you don't find at most big mountains. When you're there you feel like a local. The views are to die for. If you're a photographer you'll be in mountain-top heaven. If you're an adventurer or expert skier you can pretty much ski 360 degree parameter of Mt Bachelor, it' mind boggling, take a look at the ski trail map to see how it's done.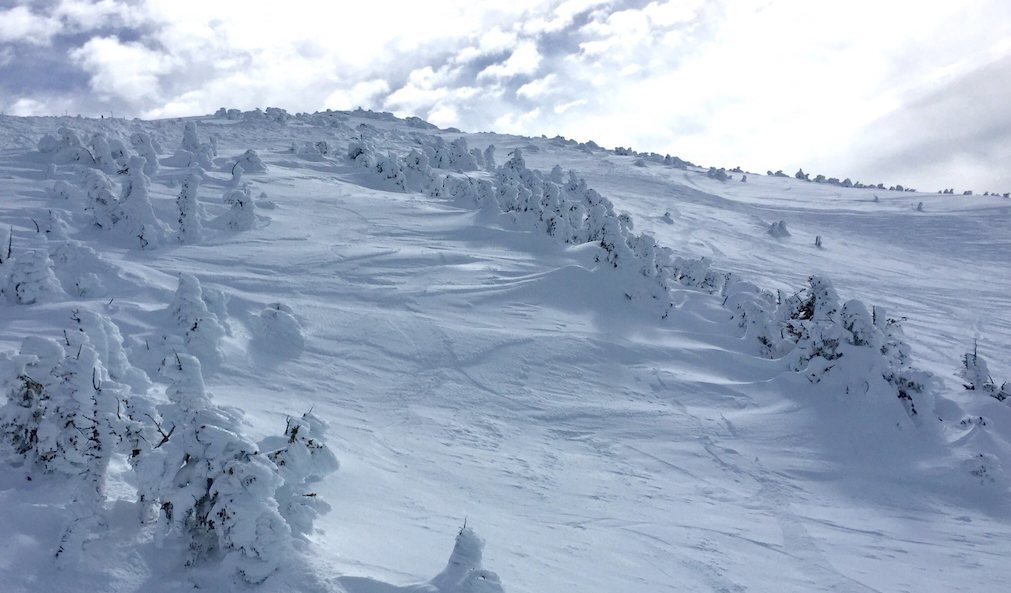 This mountain was a bit different for us, as we're accustomed to lodging either slope-slide or in walking distance… However, Mt. Bachelor doesn't offer on-mountain lodging, and most likely they never will. The ski area is located entirely on National Forest land. So strict are the forest management guidelines that Mt. Bachelor is required to obtain permission from the Forest Service if it wishes to cut a tree leaning into a trail. Condos and hotels are out of the question. If Mt. Bachelor lacks slopeside lodging, which some skiers perceive as an essential element of a modern ski vacation, why do so many others cheerfully ski Mt. Bachelor anyway? Answer: the experience has a unique vibe, and a lot of that vibe has to do with the towns of Sunriver and Bend about 15 and 20 minutes away. Free shuttles run between both and the mountain. We had a car, which added more flexibility to our trip. Once again, a giant mountain with minimal crowds makes it very attractive and the size and beauty make it truly unforgettable.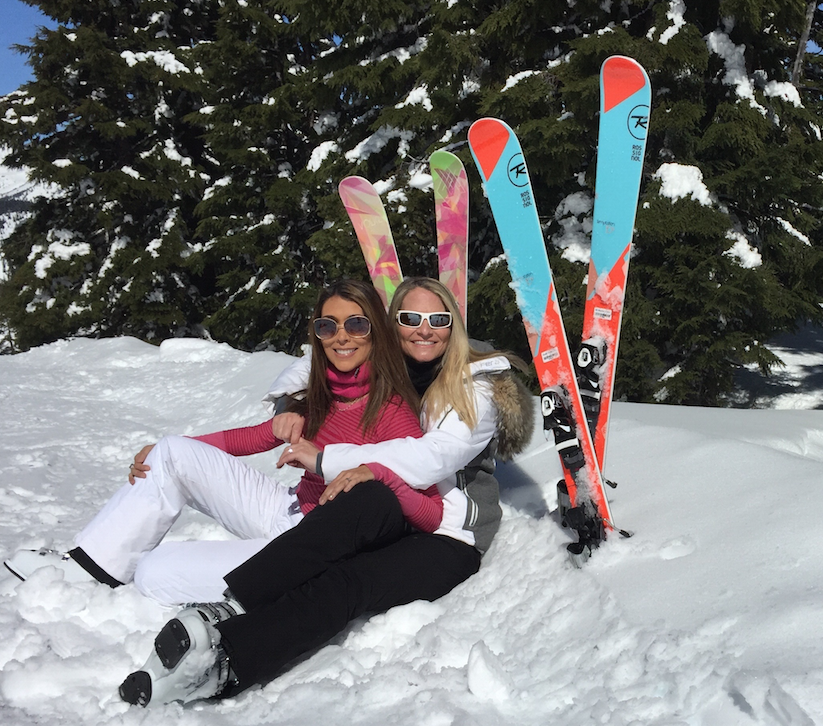 Hanigng out doing selfies and snaps with my little sister.
Like my parka? I wear FERA on the slopes! I'm proud to be an ambassador for Fera Style ski wear…when I'm out and about in the snow or skiing. I hope you take the opportunity to try some of their products – You can see by the photos that their parkas, pants and sweaters are sophisticated, classy and very functional. The price point is good as all their merchandise is very high quality and in line with the ski trends each year.
WHERE TO STAY

You can't deny the beauty of Central Oregon – fast growing in reputation as one of the nation's finest places to visit – and live. Travelers who like to ski Mt Bachelor typically stay down the road, either in the wonderful Sunriver resort area, about 13 miles to the southeast, or Bend, about 19 miles northeast. During our trip we stayed in the Sunriver area. It's a charming full-service resort with spacious condominiums and a wide array of services. It's surprisingly affordable, making it a popular choice for generations of families. We stayed at Discover Sunriver in cute 3-bedrom home with plenty of amenities and a fully stocked kitchen to cook the kid's meals (see photos below!)  As for Bend, well… it's on just about every list of the coolest towns on the continent. The range of lodging and dining choices is staggering. And if you like beer – or, at least, that you like people who like beer – because this region offers the most micro and craft breweries per capita in the States.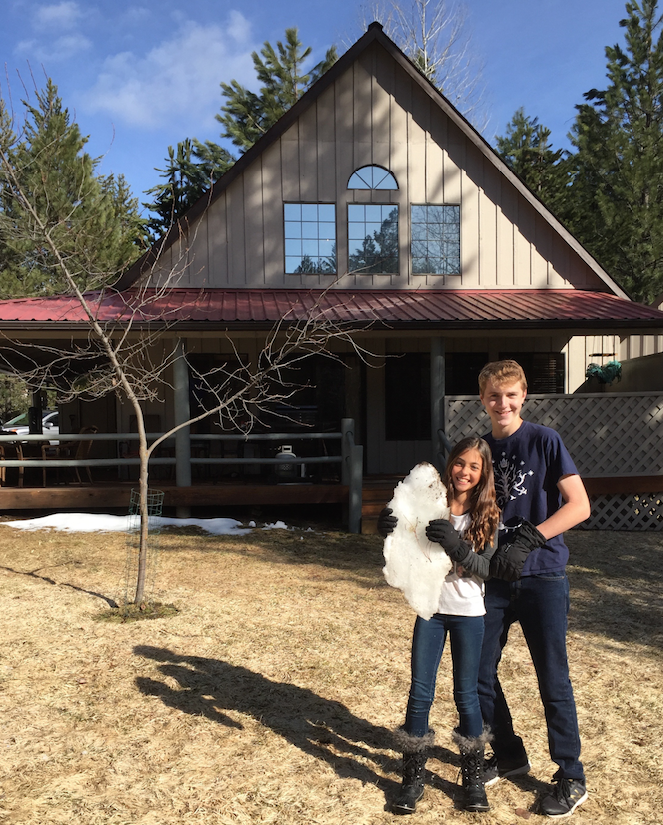 Discover Sunriver! Ski Sun River!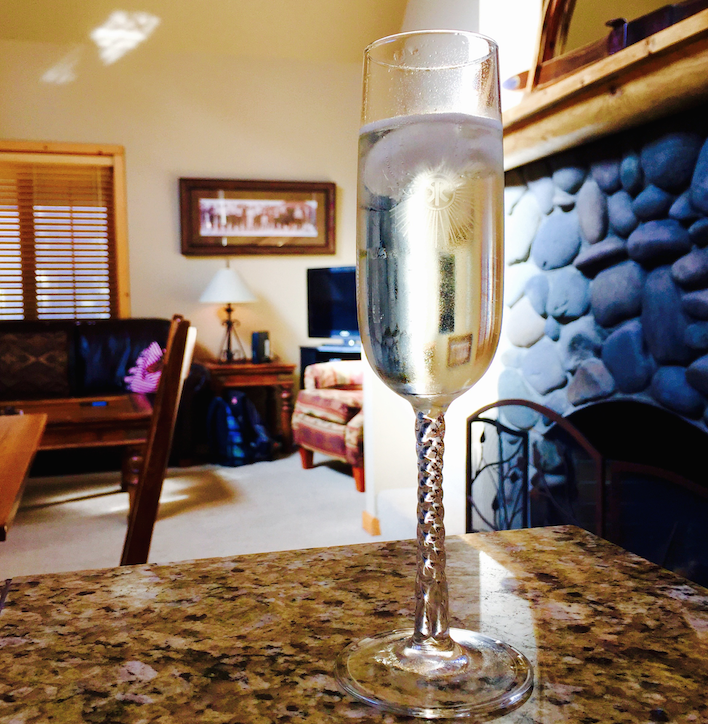 Family-Conscious on a Budget Lodging
There are lots of good options in this category. Among them: The Sunriver Resort, a resort community about 13 miles southeast of the mountain (it's actually the closest lodging). Sunriver is great for families and groups, with an array of condominium sizes and styles, plus restaurants shops and a variety of activities including a gorgeous new aquatic center.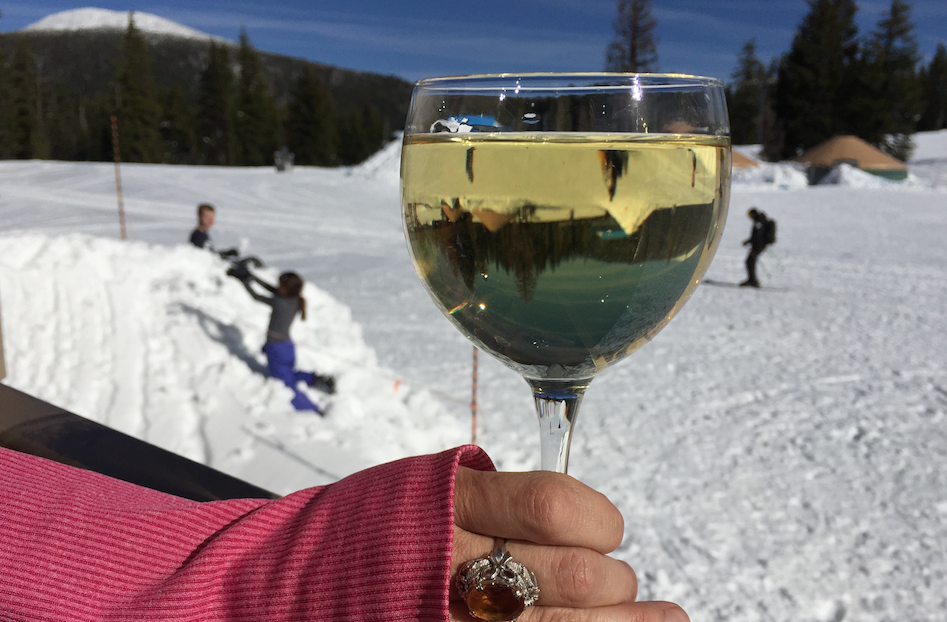 Upscale Luxury Lodging:
Want to splurge? There are options for you, too, and you can book lift and lodging packages that make them an excellent value. Consider the Oxford Hotel in Bend; it's small and intimate – but when it comes to service and amenities, it packs a wallop. The guest rooms are spacious and elegant, there's an excellent fine-dining restaurant on premises (and lots more good eating and imbibing within an easy walk). Live entertainment (including nationally-known jazz artists) occurs regularly. It's within walking distance to many of Bend's most attractive dining, drinking and entertainment choices –and directly across the street from a wonderful little coffee joint called Thump. What makes Thump so special? Besides terrific coffee, they offer an item called an "Ocean Roll." It's not sushi –it's sort of like the best cinnamon roll you ever ate, except the cinnamon is replaced by cardamom. Unique and wonderful. Not into a downtown choice? Consider the new Tetherow Lodges. It's one of the closest Bend properties to the mountain. The property has hosted one of the region's finest golf courses for several years, but the guest facilities are new this season. The rooms are finely appointed, there's fine dining and a full range of recreational and business services. Another option is the Pronghorn Club and Resort. It's a Jack Nicklaus golf community with all the bells and whistles, lots of activities and lodging choice ranging from one- bedroom suites to four- bedroom villas. It's located in the high desert about 5 miles from RDM and about 10 miles northeast of Bend.
Go ahead, take the leap and ski on a real volcano! Book lodging with Mt. Bachelor's lodging partners through its website, MtBachelor.com, or by calling 1-800-609-1472, tell them The Go-To Mom sent you! visit www.mtbachelor.com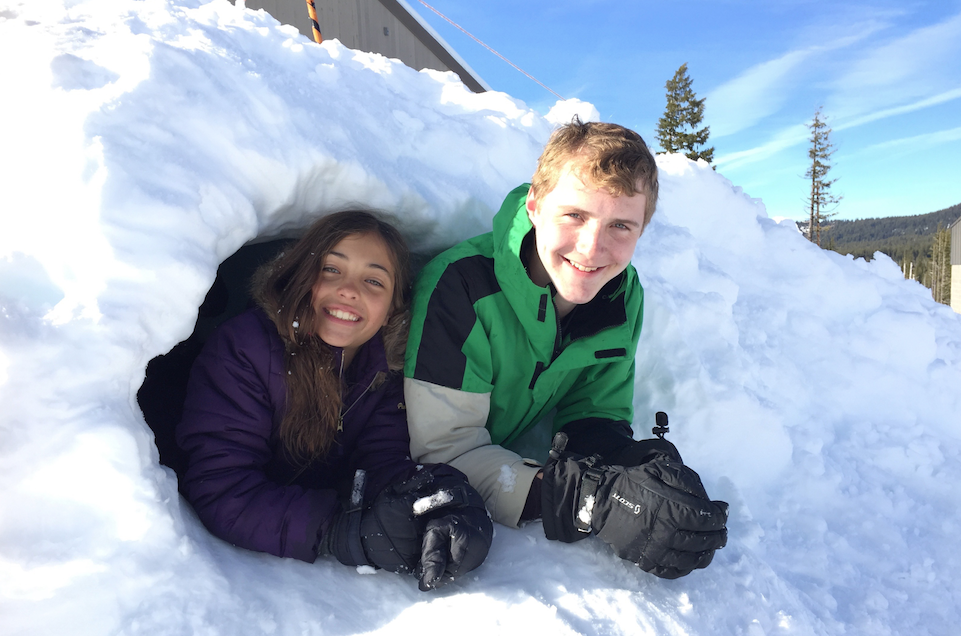 Endless fun for kids at Mt Bachelor!