Indeed @SunValley has stole my heart and sun-kissed my soul forever
Sun Valley is the place where it all began. An idyllic valley that became the setting for a winter playground that drew the famous, the glamorous and the accomplished. The first chairlift was invented here. Hemingway made his home here. Step inside The Sun Valley Story and discover the people and places that helped define an American icon.  Purchase the Coffee Table Book!
If you've never been to Sun Valley Idaho you're probably expecting a vast sunny mountain with glorious skiing for the whole family.  What you don't know is it's so much more than that. I went with a typical ski town expectation, but once I experienced Sun Valley Resort, my soul was touched and I was sun-kissed forever. Idaho has a special place in my heart that goes far beyond traveling and skiing. The blue skies glow, the town is solid and historical and the community is very cohesive.  Every single person I met was so kind and generous and I wasn't sure if this place was real.  But it is.  I grew up in Los Angeles, which is known for it's rich Hollywood history.  So you can see why I felt connected immediately. It's like I left home to get to another place that felt like home.  I began to ski at age thirteen and have been traveling the west with my kids to find the best places for families who love to ski. I prefer niche cities, cute towns and unique villages that offer that one-of-a-kind experience. And I know when I get it because my kids beg and plead to return every time.

I was such an honor to meet Carol Holding in her construction cowboy hard-hat as I took the tour of the currently-renovated lodge! She is the resort owner for the last 37 years with her late husband Earl.  I felt the charm and connected essence of the resort because of Carol Holding and all she's invested in the lodges and community.  She says, "There are few more enduring icons of quality and hospitality in the world than the Sun Valley Lodge.  Our family has loved Sun Valley for over three decades. We have always tried to make it better while maintaining the personal and intimate feeling that makes it so special. We want to keep the wonderful feeling of the Lodge while at the same time providing the modern comforts and conveniences that our guests expect, fitting the Lodge for the next 75 years of fun in the sun."

Jack Sibbach, the PR director (pictured in yellow jacket) encouraged me to take the tour  of the newly renovated Sun Valley Lodge – so put on my hard-hat and got a preview.  The lodge was originally constructed in 1936 as America's first destination ski resort. The project will refurbish guest rooms as well as update the lobby, restaurant and other guest amenities. Some of the smallest rooms will be combined to create suites with fireplaces and expanded bathrooms with large showers, baths and vanity areas. I also got a few tips from Jack on how to enhance my snow bunny skills on the mountain. On my next trip back, I will be sure he takes me on the double black moguls runs! If you have kids you'll want a condo or house for sure, check out options here! We stayed in the deluxe condos which were big and perfect for families. Just walk across the street to shuttle pick up that comes every 15-minutes on the hour.   We kept our skis at the mountain that offers free storage… so we didn't have to carry them back and forth to our condo, it's great perk of staying with Sun Valley Properties.

BEST PLACE TO TEACH NEW SKIERS HOW TO SKI: Dollar Mountain
Dollar Mountain is an entire mountain dedicated to teaching new skiers! How cool is that? It's gentle, treeless terrain makes it an incredible environment to begin your life long journey in the ski and snowboard world. In addition, Dollar Mountain is home to the new and progressive terrain based learning center, new adventure trails, a variety of terrain parks and a world-class half pipe.
Bald Mountain has pristine groomers, long wide-open trails, and challenging terrain.  Bald Mountain is for skiers and snowboarders of intermediate and expert levels. The runs are gloriously long and you rarely encounter any crowds. You'll never find more than 10 people in lift line which makes this ski resort one-of-a-kind.  All the slope-side cafes serve up dishes that range from gourmet meals to simple lunches and offer jaw-dropping views. Every structure in Sun Valley Resort looks like a luxury lodge.  For a sleepy well-kept secret, this place is very luxurious.

MOUNTAIN DINING TO ENRICH YOUR AUTHENTIC LODGE EXPERIENCE
Trail Creek Cabin is Sun Valley's destination for romantic dining in a rustic, early-Western atmosphere. Originally built in 1937, this mountain-style log cabin-turned-restaurant sits right next to the rushing waters of Trail Creek, with a jaw-dropping view of Bald Mountain in the distance. Accessible by sleigh or car, its large outdoor patio and picnic area are the perfect backdrops for chef Wendy Little's seasonal menu, which includes her famous Teton Waters Ranch cowboy rib-eye steak, cedar-planked wild salmon and Brass Ranch meatloaf.
MY FAV FOR OVERALL CAFÉ DINING ANYTIME OF DAY WHEN OFF THE SLOPES
Konditorei is an Austrian-inspired cafe warms you by the fire with fresh-baked pastries, locally roasted, fair trade and organic coffees, and delish hot cocoa. One day I ate breakfast, lunch and dinner here! I sat by the fire and the staff even got to know what I liked to eat! It's very casual, simple and fast but great fresh food. And if you are seeking something beyond continental café fare, chef Hal Jardine's focused, classic dishes bring you to an alpine state of mind in the chalet-inspired dining room.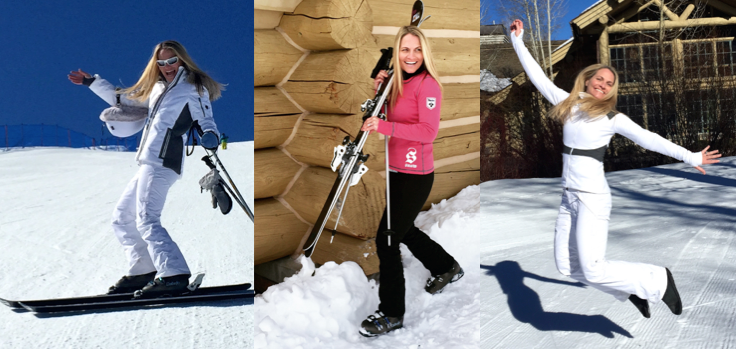 SKI BUNNIES NEED WARM CHIC SKI OUTFITS. MEET MY SKI SPONSOR IS @FERASTYLE and @SOYBU
I can't ski in baggie snow boarder outfits, I work hard to stay fit and when I'm zooming down the hill I want to feel that 1950's girlie ski vibe. I like my ski pants snug, jacket cute and skis fast.   Some of my favorites this year are the Eden Pant, Meister Snow Sweater and the Heaven Insulated Stretch Pant.  If you use my discount code GOTOMOM you'll get 20% off any purchase at Fera Style!  Fera is the perfect fit for curvy women.  Today I'm proud to be an ambassador for Fera Style when I'm out and about in the snow or skiing. I hope you take the opportunity to try some of their products out using my coupon code listed above!  You can see by the photos that their parkas, pants and sweaters are sophisticated, classy and very functional. The price point is good as all their merchandise is very high quality and in line with the ski trends each year. Share the love! Use HASTAGS: #FeelFera #FeraStyle
Soybu's "Peace" jacket was awesome as one of my outer layers when I was off the slopes.  Soybu has great every-day-wear and a chic line for those who do yoga or live an active lifestyle. They are planning to launch a plus-size line soon too. Check them out!
My accommodations and lift tickets were provided Sun Valley Resort. I will only promote, endorse and support companies that have the highest standards in products and/or services that contribute to the well-being of families.