Huntington Beach Hotel – The Art of Family Hospitality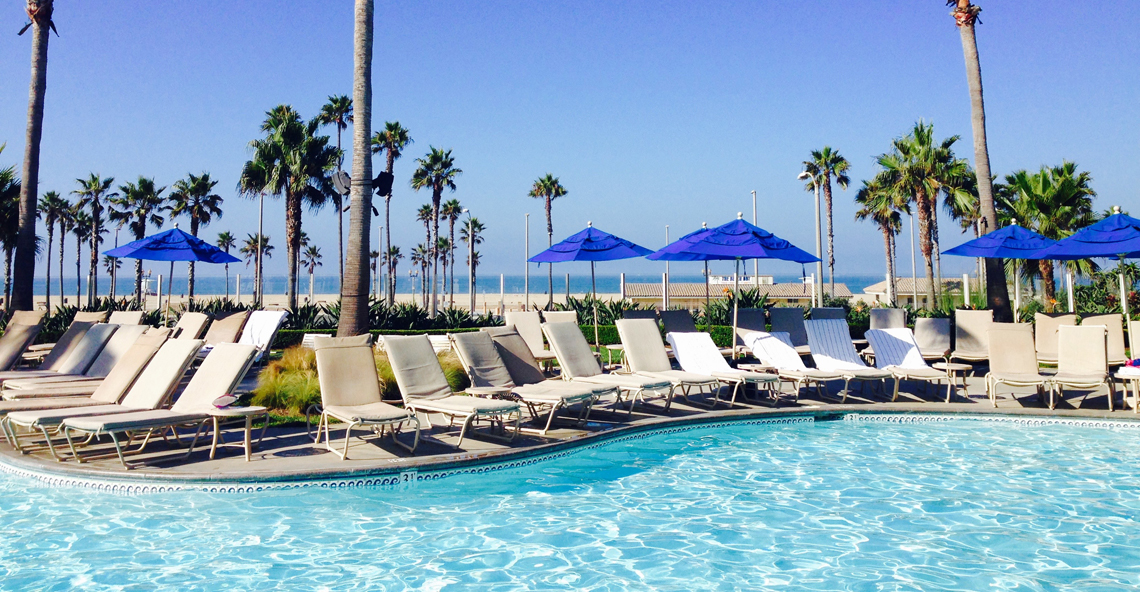 You can't go wrong choosing sunny southern California as a family vacation spot. We choose the Hyatt Huntington Beach Resort and Spa because of their spacious rooms, access to the beach and a killer pool for the kids. And for us parents, we enjoyed the gym and spa as part as the experience as well.  The resort is just steps across a bridge to a beach where beach chairs and umbrellas await for you to relax and enjoy the shimmering views of the Pacific. Innovative, Spanish-inspired architecture sets the scene for an awesome family getaway, complete with pampering spa treatments, high-end restaurants, ocean adventures and amazing service …and a fun place to enjoy surfing, a trip to Catalina Island or indulge in arts and entertainment. You may want to come when it's not summer, as the hotel is very popular and gets very crowded!

On our first day we rented a poolside private cabana at Slyders Water Playground – which is suited for kids 2 – 10 years old.  If you have older kids, there's a main pool which is larger. When you reserve a cabana it comes with a flat screen TV, wireless internet, and mini-fridge that can be stocked with your family's favorite goodies.  If you don't get a cabana it's good to know that all the seating around the kids pool is situated around a bar called Shubee's Cafe  — where it's easy to access yummy snacks, smoothies, fresh fruit and cool cocktails. Happy hour at the pool started at 4pm each day – yes, I'm sure you all wanted to know that right?  The cool thing about the Slyders Water Playground is it has three water slides that drop into two splash pools, a ribbon shaped main pool, shallow children's wading pool, two fire pits for roasting marshmallows and nine private cabanas.  On the days we didn't eat at Shubee's cafe we'd venture around the front of the hotel to Surf City Pete's Sunset Grille, which is located on the former site of the famous Mallory Surf Board Factory.  This casual grill is great for lunch or dinner — inspired by top surfing destinations from around the globe. If you go to Pete's you must get their s'mores Cake!

Our family suite was large and perfect for our kids! But we were excited to try The Pacific Waters Spa which is a lovely upscale experience and is must if you need relaxing and alone time  – they fuse a Mediterranean feel with inspirations from the Pacific waters off the Southern California coast. It is so gorgeous! My masseuse was a gal named Marin. She was so impressive, and gave me the exact type of massage I asked for. I truly believe that was the best massage I'd ever had and I had many! Their products are extracted directly from the earth and sea utilizing organic elements that include mud, algae, plant minerals, fruits, seaweed and even purified seawater. The spa smells good, is immaculate, and just a serene place to be… you can do the sauna, steam, waterfall showers, private whirlpools and outdoor relaxation areas. While my hubby and I had some alone time to workout and go to the spa, the kids went to Camp Hyatt where they played ball, swam, and played on the beach.  The hotel does have a Travel Lite program for families with babies. It allows you to order all of your baby and infant supplies online and have them delivered to your room.

On the last night we dined at a more formal place called the Watertable restaurant and it's the resorts newest restaurant. Watertable combines rustic and refined, old and new – in both design and cuisine. The menu features grill centric American fare, paired with a selection of vintage world-class wines, craft brews, artisanal cocktails, craft and naturally infused waters. If you're considering sunny California for a trip check out the Hyatt Regency Huntington Beach Resort & Spa.
 The Go-To Mom was given a complimentary stay at the resort. Kimberley Blaine only supports products and services that contribute to the overall well-being of families and children.