Hilton Los Cabos is an Award-Winning Luxury Service for Families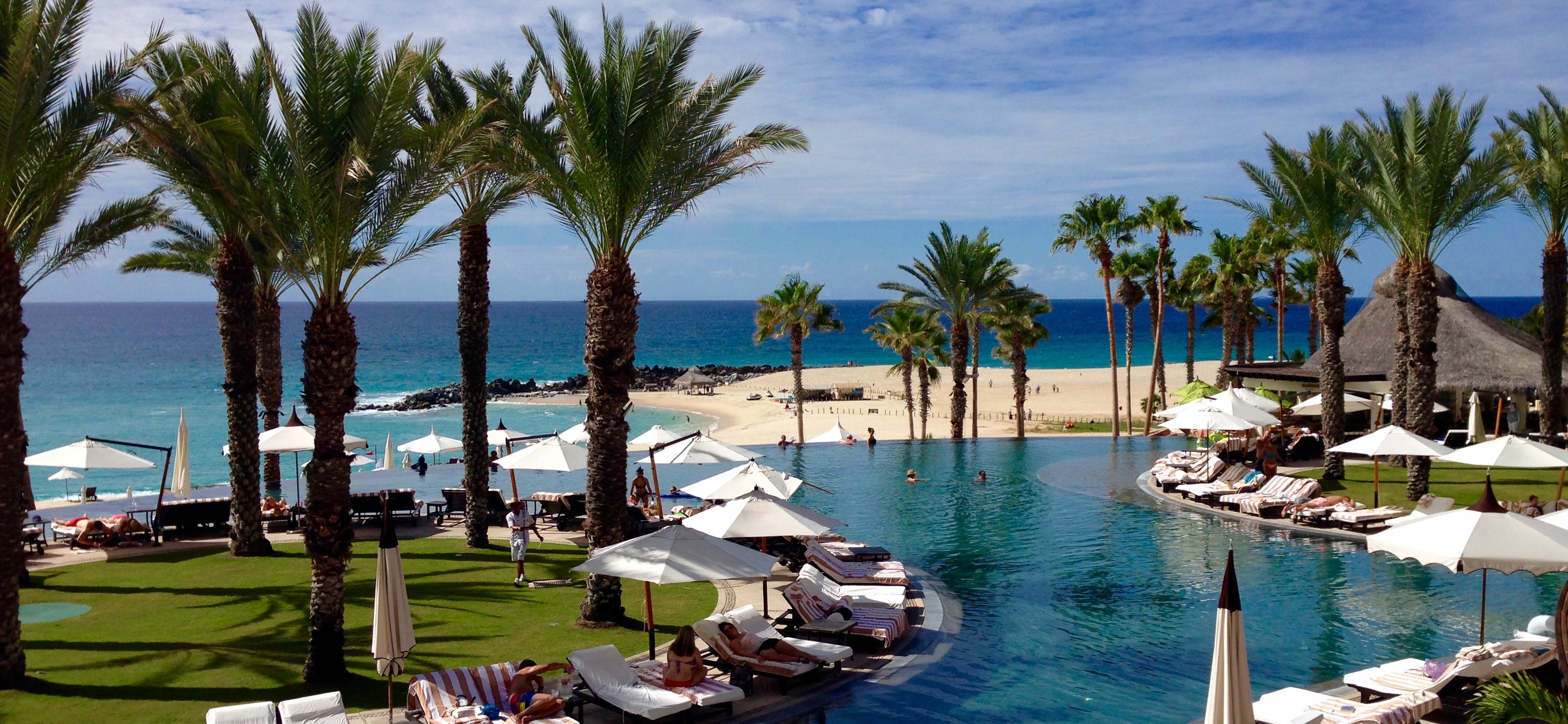 The photos Online of the Hilton Los Cabos do not do it justice. When we arrived it was a grand spectacle of beautiful eye candy representing the true Mexican Riviera  — Bold, bright and very alluring!  A great perk of coming here in the summer is that kids eat FREE! What made this trip to Cabo so worthwhile was the staff were so friendly and accommodating and the amenities were endless: Gym, spa, fresh cuisine, access to swimmable cove beach and pool/ocean side service, cooking lessons by head chef and complimentary child care and having a doctor and nurse on site. The Hilton car service was prompt, safe and made getting there so easy!

Our favorite part of the trip was eating at an ocean front swim up Sushi bar – The cocktails were delicious and you can tell they used only use premium alcohol  – no watered down beverage there. They had two pools: The awesome infinity pool was just below and in front of the main dining areas. The other pool, which I call the quiet secret Sushi bar pool, was our preference. It was serene, the pool staff were attentive and kind and the view was breathtaking.  It was fun to see all the families in the pool with their babies. This place has met the criteria in my rating system as "appropriate for families with young kids." Which is not easy to find in Mexico. One unique program they offer for FREE, yes I said FREE, is the Cabo Kids which for kids ages 4 – 12… if it gets too hot you can walk them over to the club and they can play, relax or do arts and crafts…. How cool is that? Now that's a great hotel that caters to families who travel. Be careful, most often the tides are very strong and you have to swim with your kids if you let them in the ocean!

It was a pleasant surprise to have a variety of food options and places that are within the hotel — One night we wanted to take advantage of the happy hour in the La Vista Bar. So we ate at La Vista bar quite a bit because the food was spectacular. I can honestly say I've never had a quesadilla so fresh and hearty before! And you can't beat half-off prices for drinks!  If you do stay at the Hilton be sure to sign up for "Cooking Lessons" with the head chef. Oh boy is that a treat!

One day we rented a pool bed so we'd have shade all day – and it overlooked the ocean and was right next to the swim up sushi bar, so I was clearly in Heaven!  Traveling increases my overall feeling of wellness – this trip was so needed. I look forward to returning for a 'girls weekend' away and for a 'family getaway' – Trip advisor was right…. This is one of the best high-end luxury places to stay for families. During the day they have an abundance of water activities that the hotel can arrange for you at the famous arch of Cabo San Lucas – which is the rugged El Arco (The Arch), a rock formation that erupts from the sea at the tip of the Baja Peninsula.
Plan your escape to paradise at Hilton Los Cabos Beach & Golf Resort, a premier Cabo San Lucas hotel. They deliver award-winning service and unparalleled accommodation sure to make your experience – no matter the occasion – truly one-of-a-kind.  They are ideally situated in the Los Cabos Corridor along the sea or Cortez, offering direct access to the one of Cabo's only swim-safe beaches. Explore their beautifully maintained grounds, dive into the opulent Infinity Edge pool, lounge and relax with personable poolside bar service – or make it all of the above. At Hilton Los Cabos, the perfect vacation is whatever you want it to be.
The Go-To Mom was given a complimentary stay at the resort. Kimberley Blaine only supports products and services that contribute to the overall well-being of families and children.