Casa Majani where your soul goes to fall in love.

She closed her eyes and wouldn't open them until she knew she had arrived. Greeted by the sweetest team who work at the villa, she couldn't help but look beyond their kindness as she was distracted by the most stunning ocean just a few yards away. Then she then turned back and thanked the loving people who made her feel so at home.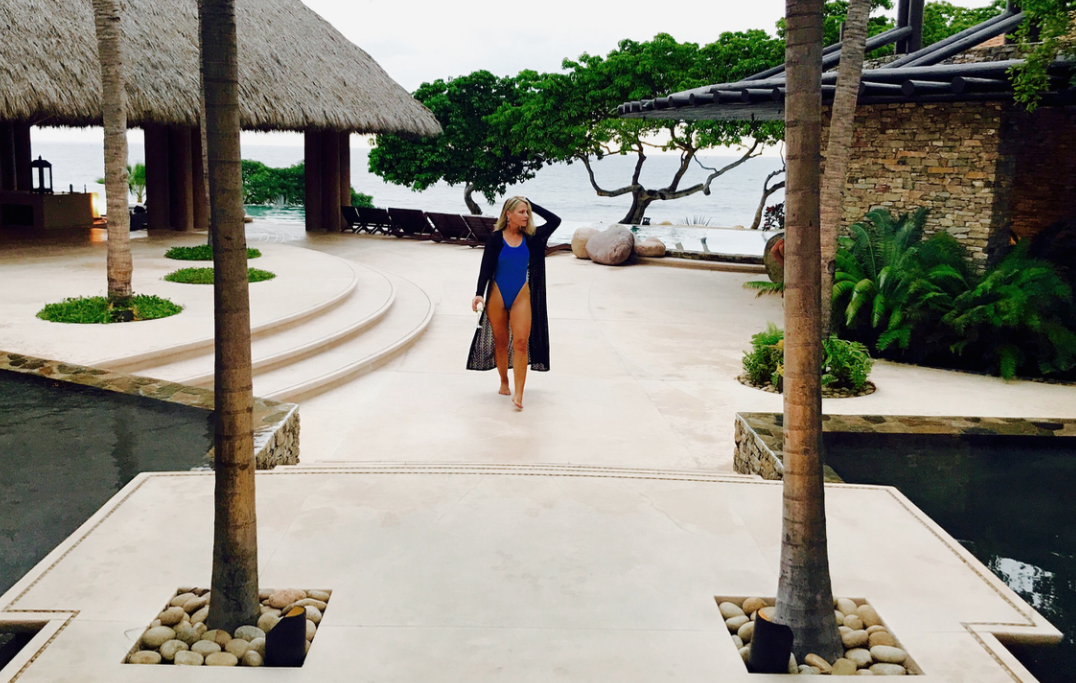 The words of those around her were completely drowned out as she was drawn toward the purple-hue of the ocean's sunset. She found herself making her way to the edge of emerald colored infinity pool, looking all around the villa, wondering where she really was. This was too good to be true or even real. Standing at the pool's edge she felt the tropical breeze flow in from a far distance of Puerto Vallarta and brush upon her skin. The land of Riviera Nayarit began to own her soul.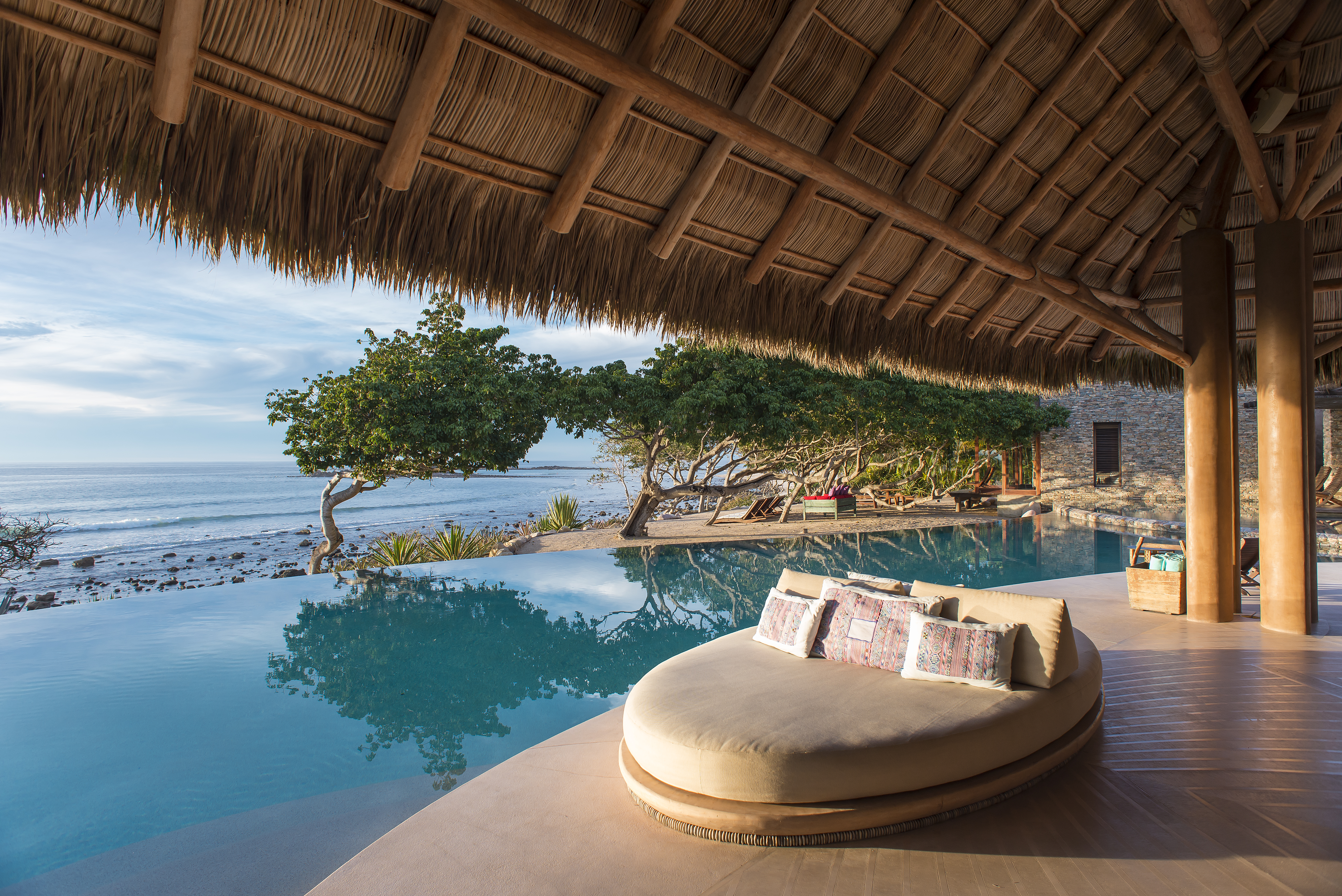 The warmth of the ground, the colors of the palm-thatched palapa and trees made her feel she found a new home for her heart. A place to fall in love…more in love with Mexico, as it has always been one of her true passions. As silence overcame her, her soul danced in elation as she could not believe that she'd finally arrived. She heard of paradise, but this…this was indeed the true definition of paradise. They call it Casa Majani.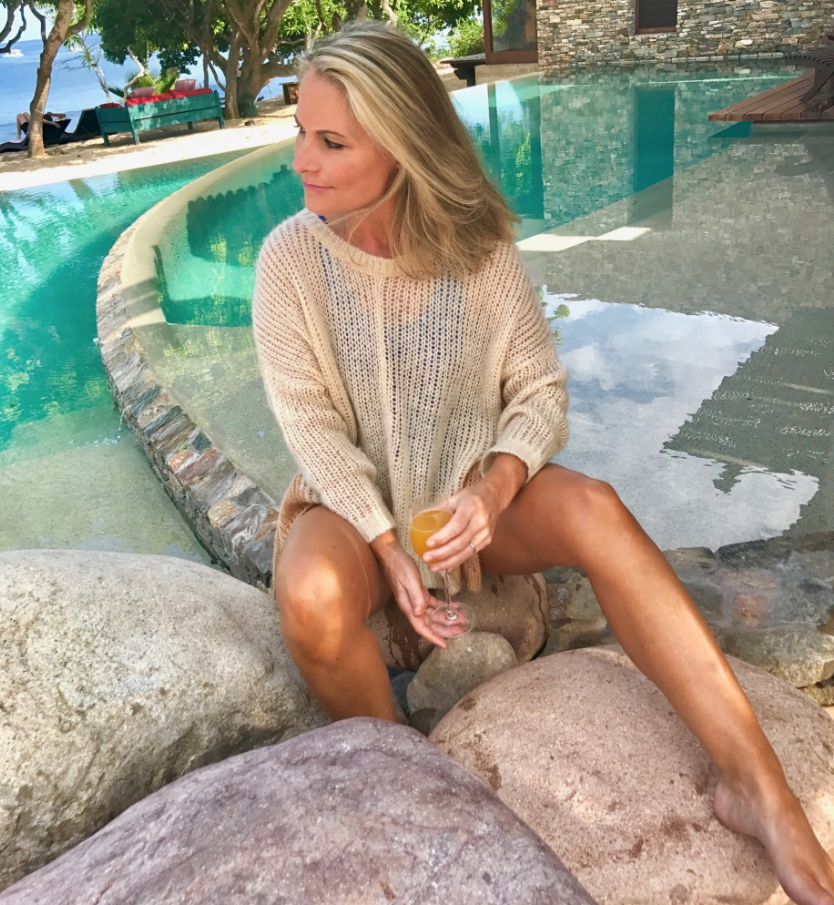 Never again will she have to use her imagination to envision a place we all dream of. She knows how to get there. How to live and how to love there. Everyone deserves a place this serene in the magical and tropical Riviera Nayarit – this is it, and you must go.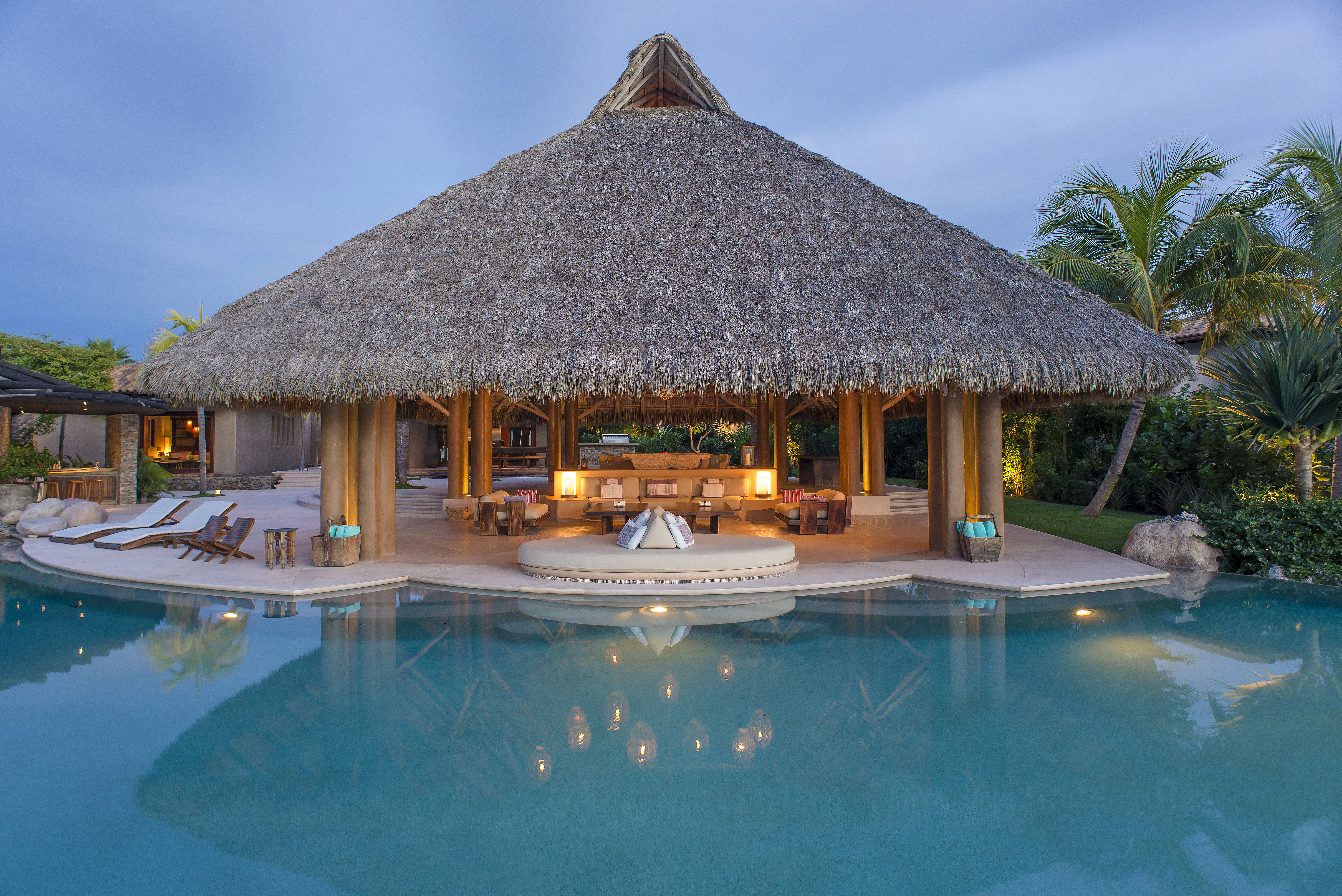 Casa Majani is unlike any home you'll ever see. It is outdoor living at it's best. Most of your entire experience will be outdoors. This unbelievable 6-bedroom villa is situated in the exclusive Punta Mita development on the Riviera Nayarit (see below for more about it) – which is about a 45-minute drive from the Puerto Vallarta Airport.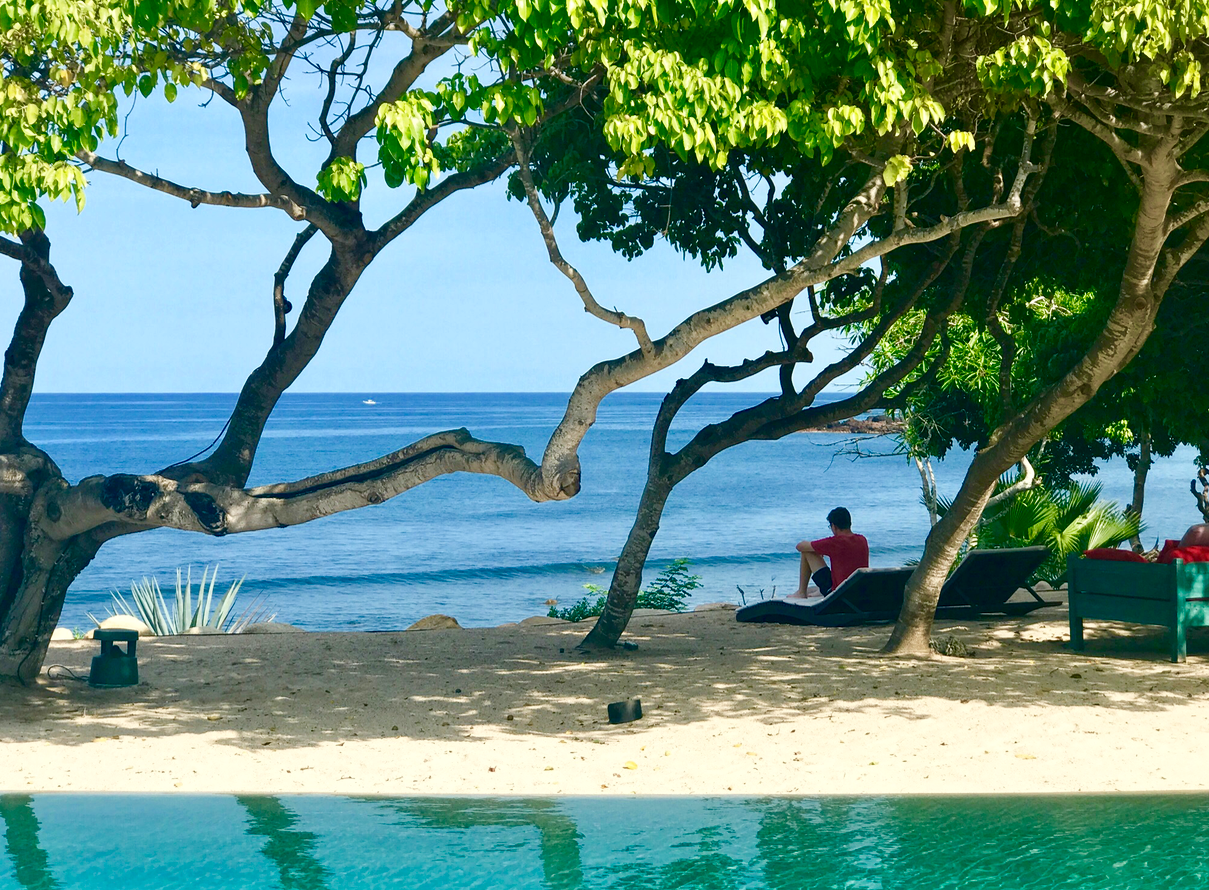 This dreamy home sits on it's very own private beach – which will render you silent. It's beyond spectacular. It's just perfectly set up for family reunions, girls retreats, weddings and this villa screams out, "Celebrate Life!"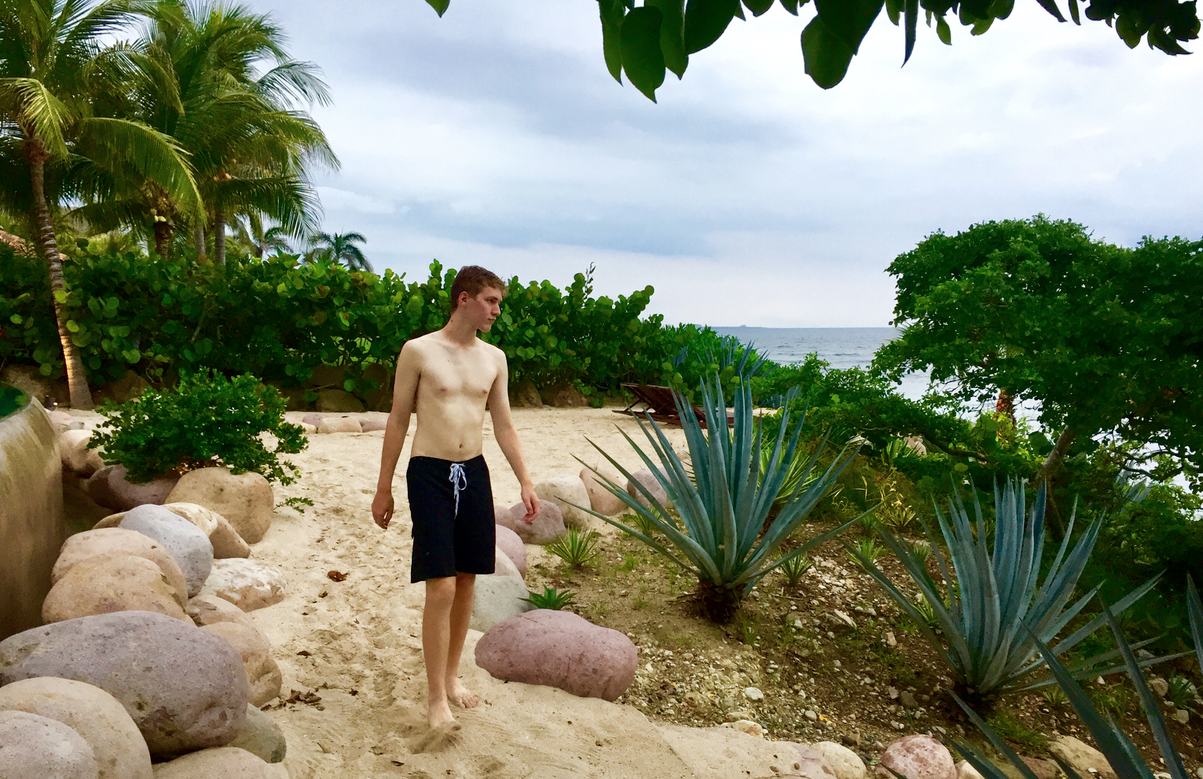 My teens loved hanging on our private sandy beach… To get to the safer swim beach you can utilize the local beach clubs ammenities. But bring WATER SHOES. Punta Mita is rocky. We have voted all the oceans in Puerto Vallarta, Riviera Nayarit (Punta Mita) some of the best water to experience. It's super warm, gentle and quite shallow. Get a bunch of rafts and you're out for the day! And don't forget to hop on a luxurious private boat and be one with the earth's treasure – smack in the middle of Bay of Banderas. We loved using Punta Mita Expeditions for our family outing to Las Marietas Island for an afternoon of swimming, paddle boarding and snorkling.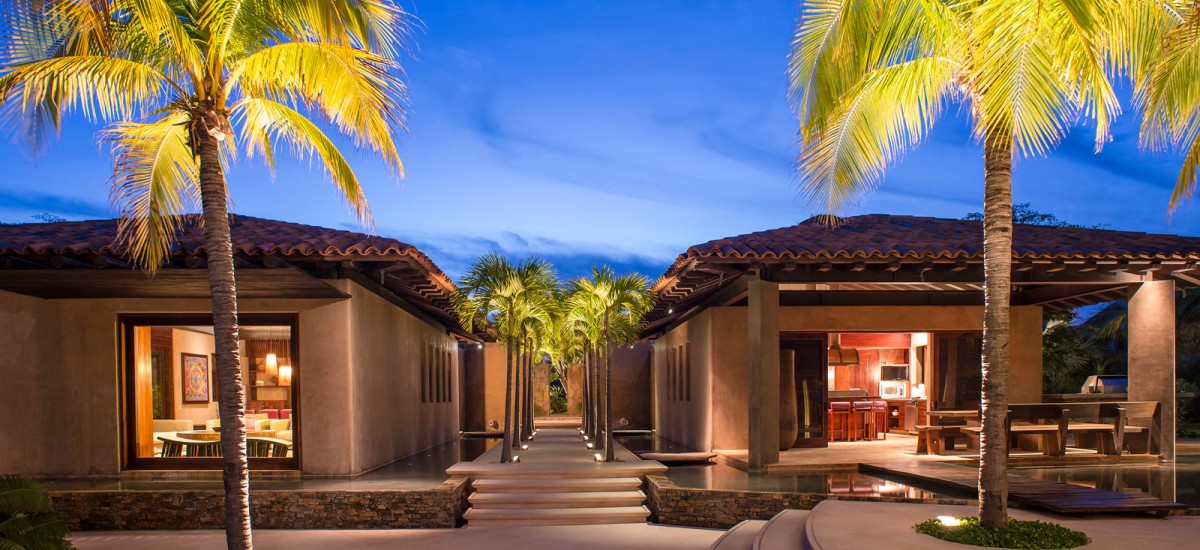 This place was built by world-renowned architects Manolo Mestre and Juan Collignon who built amazing pools that connect each unique structure, creating the illusion that this villa is floating on top of the glorious ocean.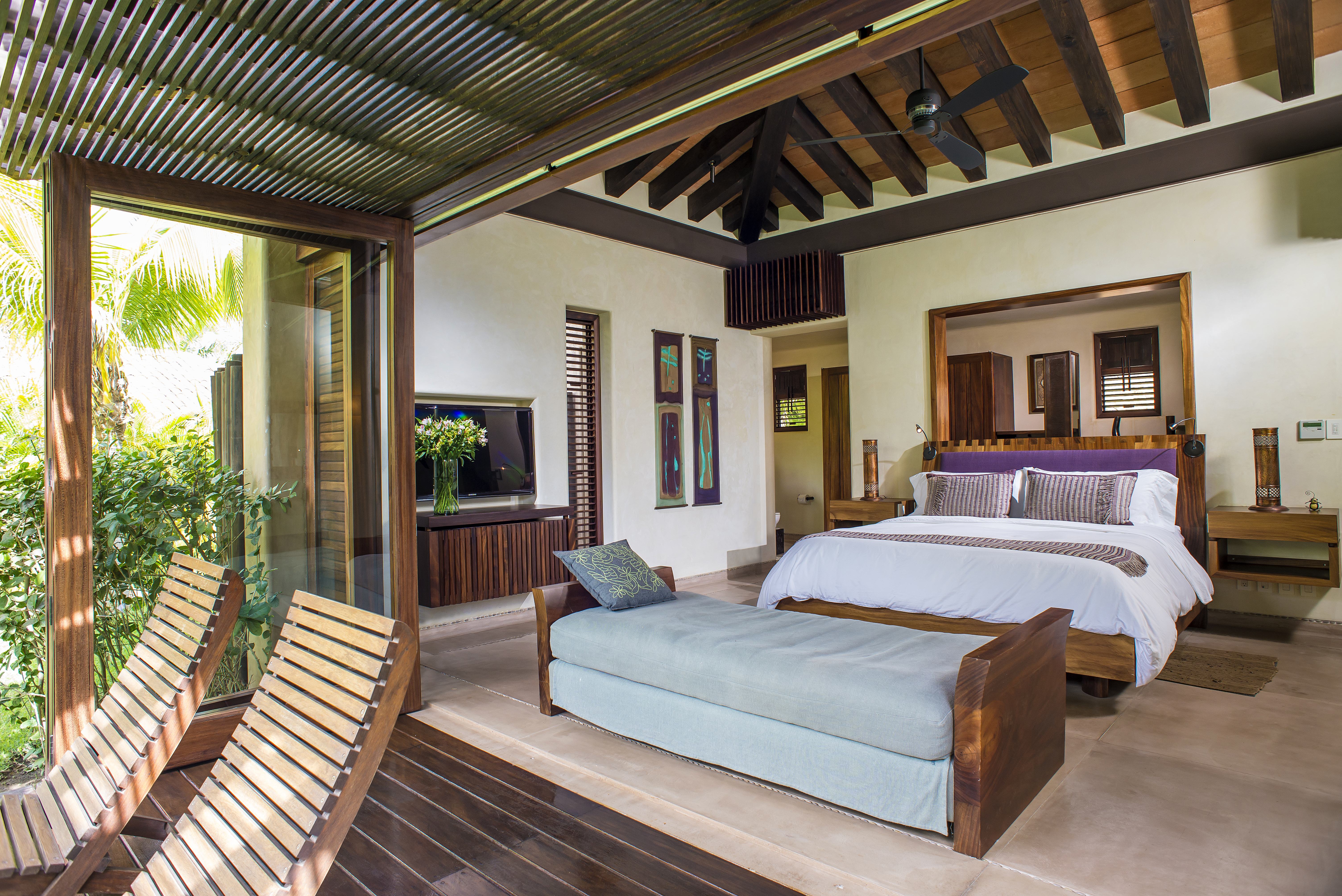 You can escape the outdoors if you need to, no worries! There are 6 ensuite relaxing & air-conditioned bedrooms that are stand-alone (detached from any structure, kind of like mini villas) at Casa Majani: 2 oceanfront master suites, 3 guest suites and 1 garden bedroom. Of course, all accommodations have a/c, Internet and flat screen satellite TV – but you'll find you spend very little time in your bedroom because the hypnotic ocean and refreshing pool will entice you to stay outdoors.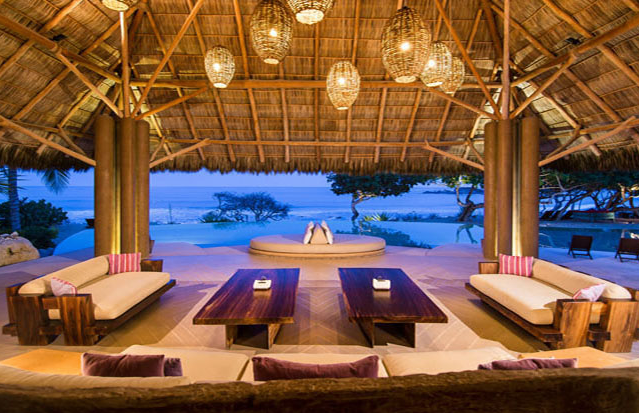 The real wow-factor of Casa Majani is the grand palapa – for which we called the 'living room.' Which is ethereal living and dining terrace. Striking ocean vistas surround all points in Casa Majani's central gathering area. We enjoyed our meals at the grand dining table, created by local craftsmen, which provided vantage point for the stunning deep-colored sunsets.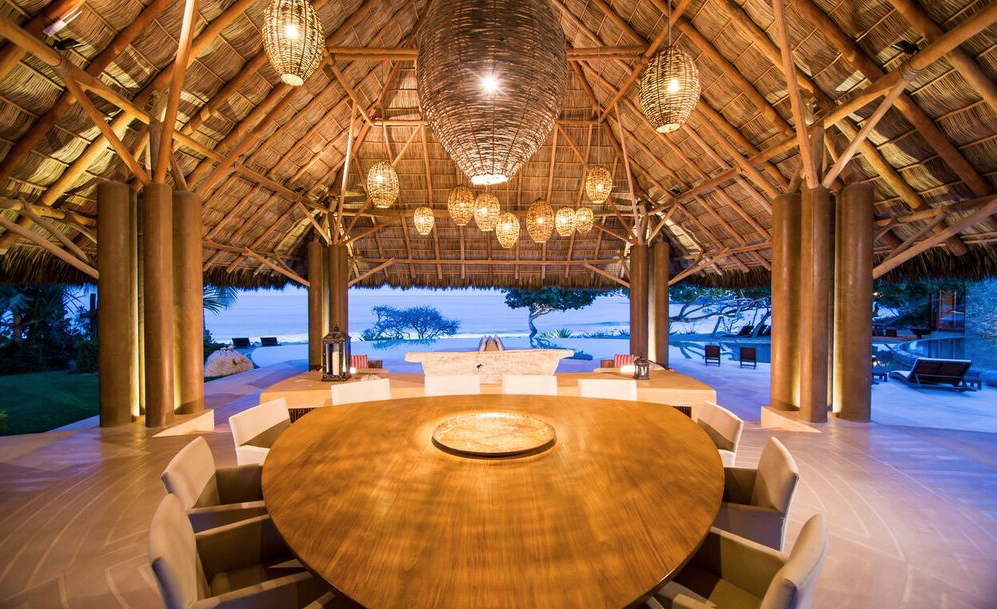 Picture below is a great place for the family to escape the long sun drenched swim day — it is a family room with air-conditioning with a large cozy couch and big screen TV. You can also eat indoors in at this lovely family table… On the other side of this room is the couch and big screen TV.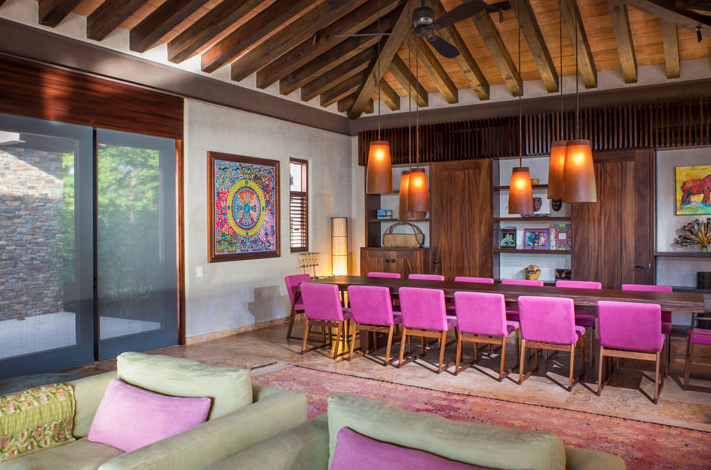 Dining Family Style
This feel and flow of Casa Majani is more like a small boutique resort then a home. There was always a chef or house service person on the premises. Casa Majani's chef will happily prepare any meal you request. We never went in the kitchen actually because the house manager would take our order and bring it to the kitchen staff. The kitchen and breakfast table opens onto an outdoor patio deck bordered by a charming pond.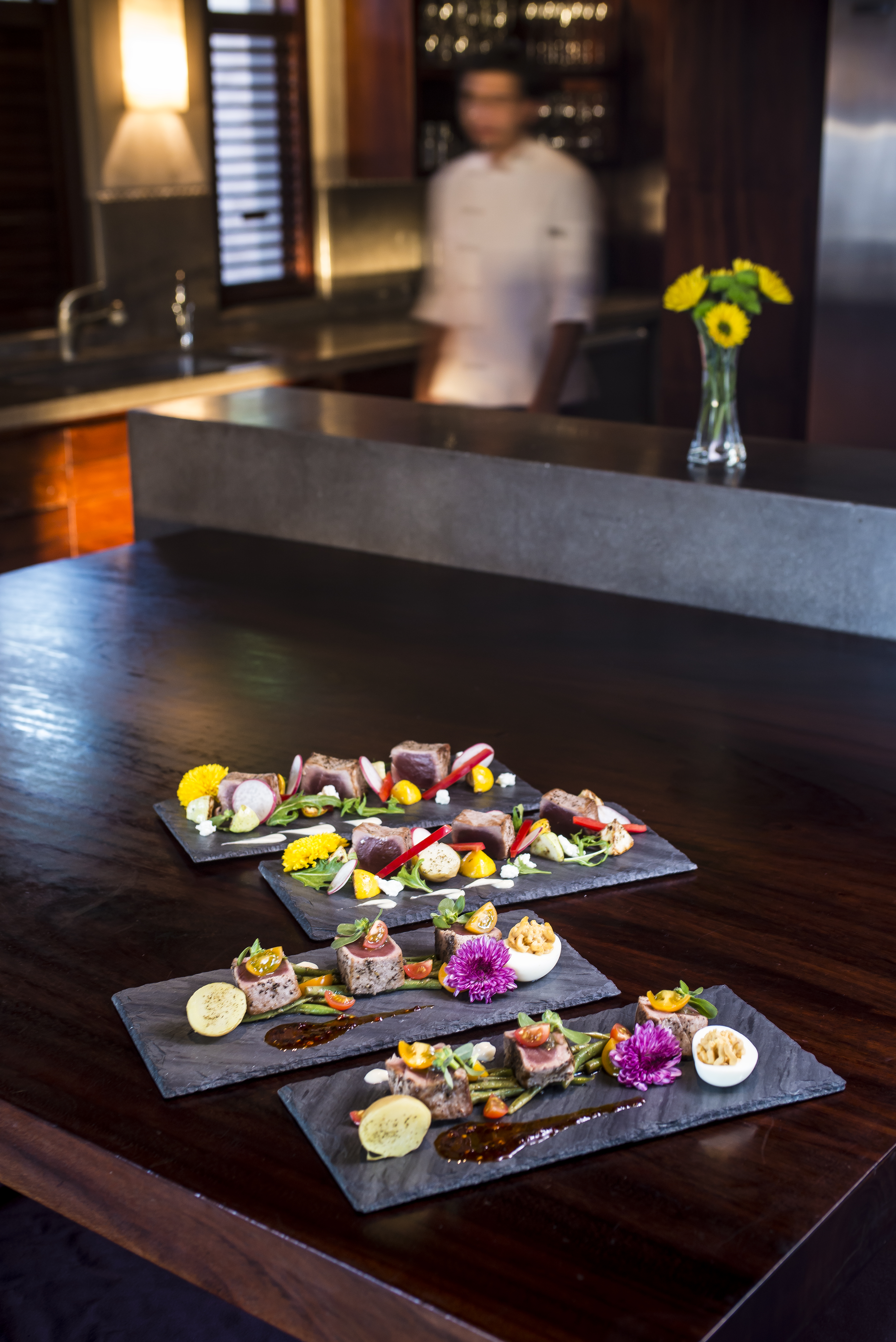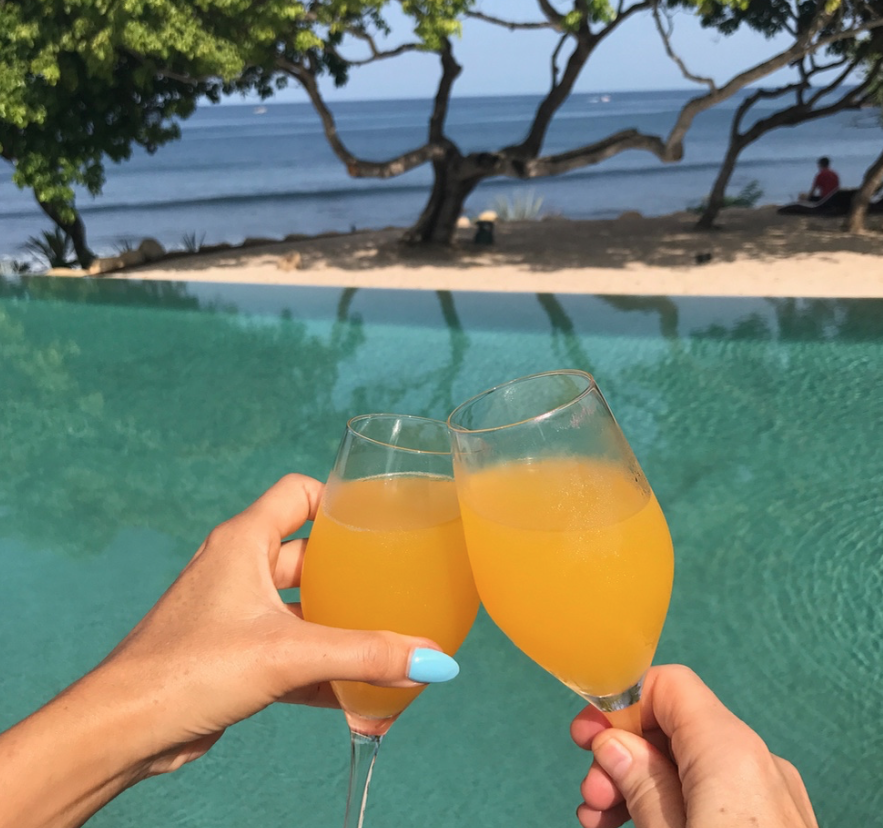 The friendly and attentive staff were always coming by to make sure everyone was at peace and had what they needed. Typically you get your own drinks when you rent a private villa, but here they bring everything to you! Carlos was a sheer delight and ever so helpful.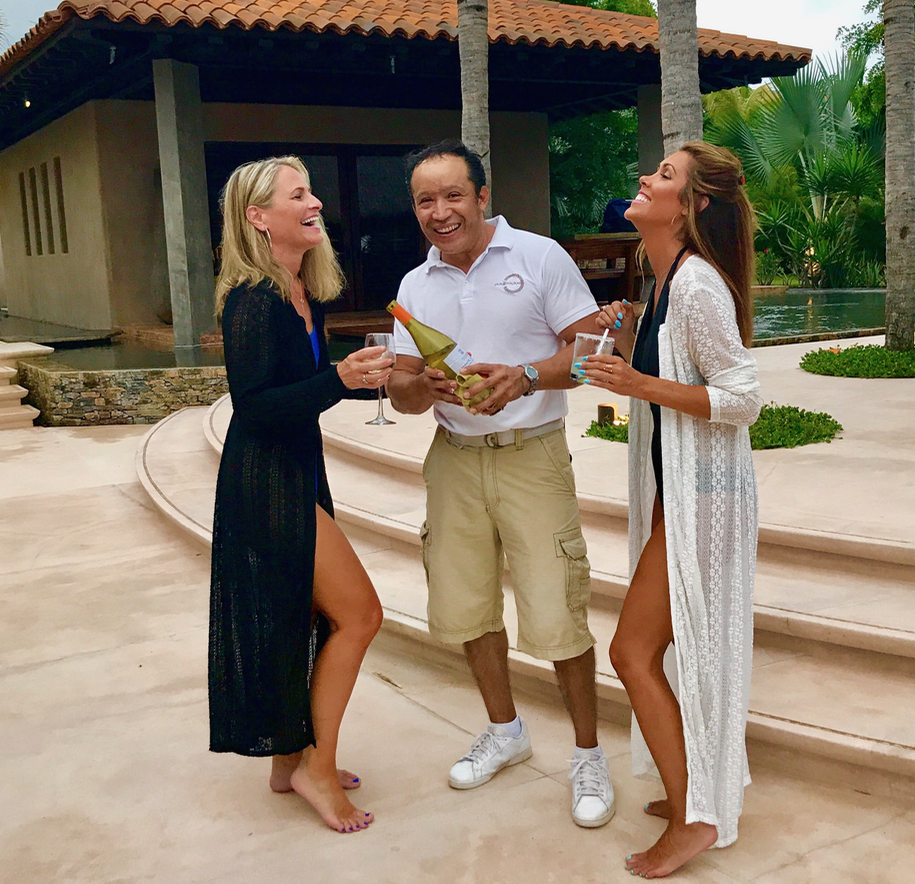 The villa has two pools that are adjacent bodies of water that blend with sea and sky, which were the focal point of our day and night. You could pretty much see the kids playing in the pool from every angle of the house – it was just magnificent.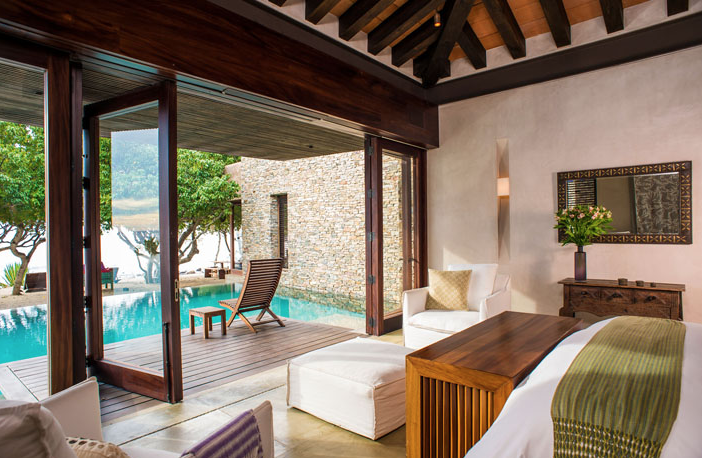 We stayed in the Keili suite, where the smaller of the pools encircles the deck of the suite, offering a convenient serene swim experience.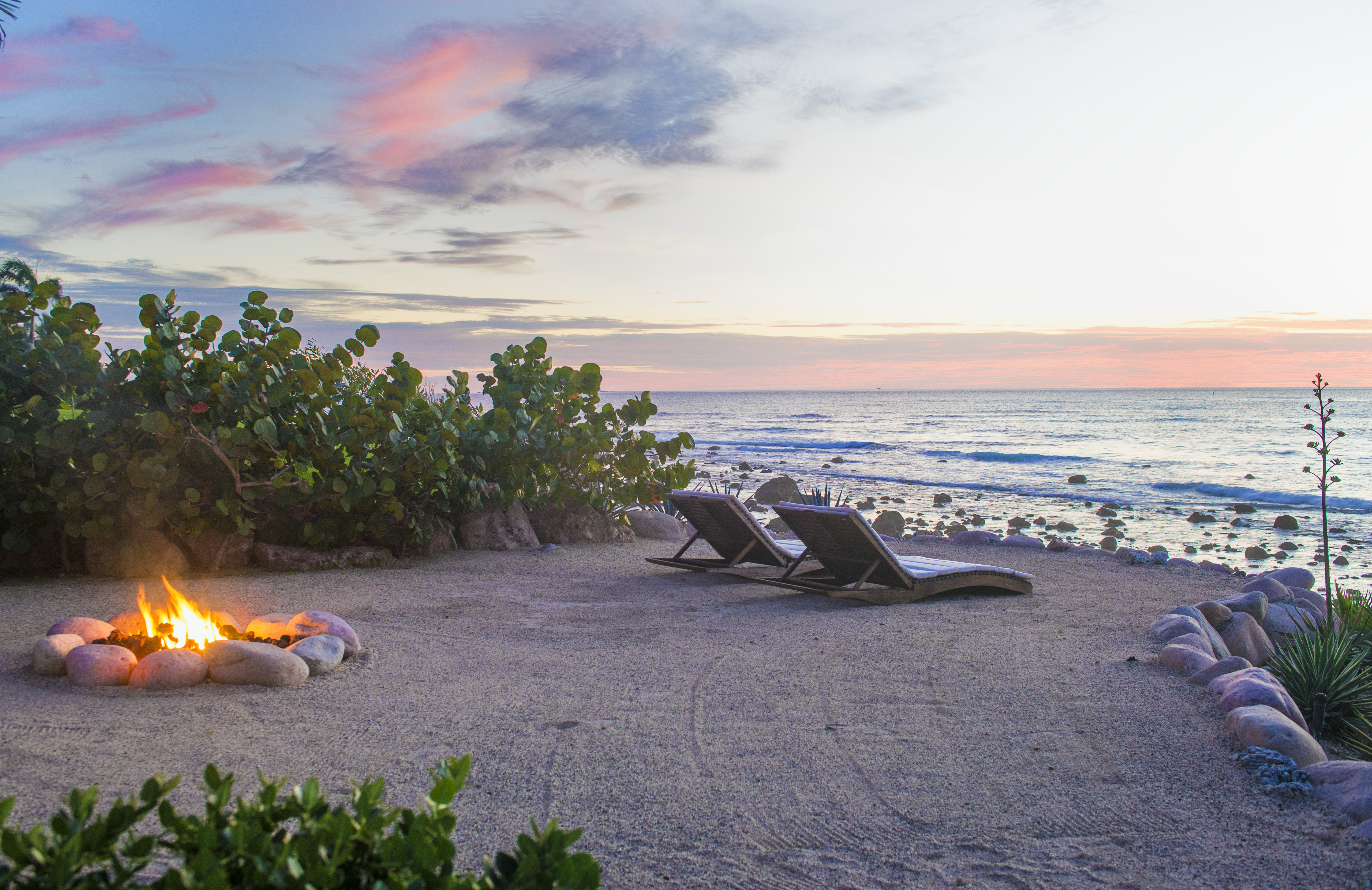 A ground level fire pit for intimate gatherings and fantastic sunsets is situated on the ultra private sand beach terrace. Not a person in site – this property is beautifully secluded. No wonder celebrities like to book here.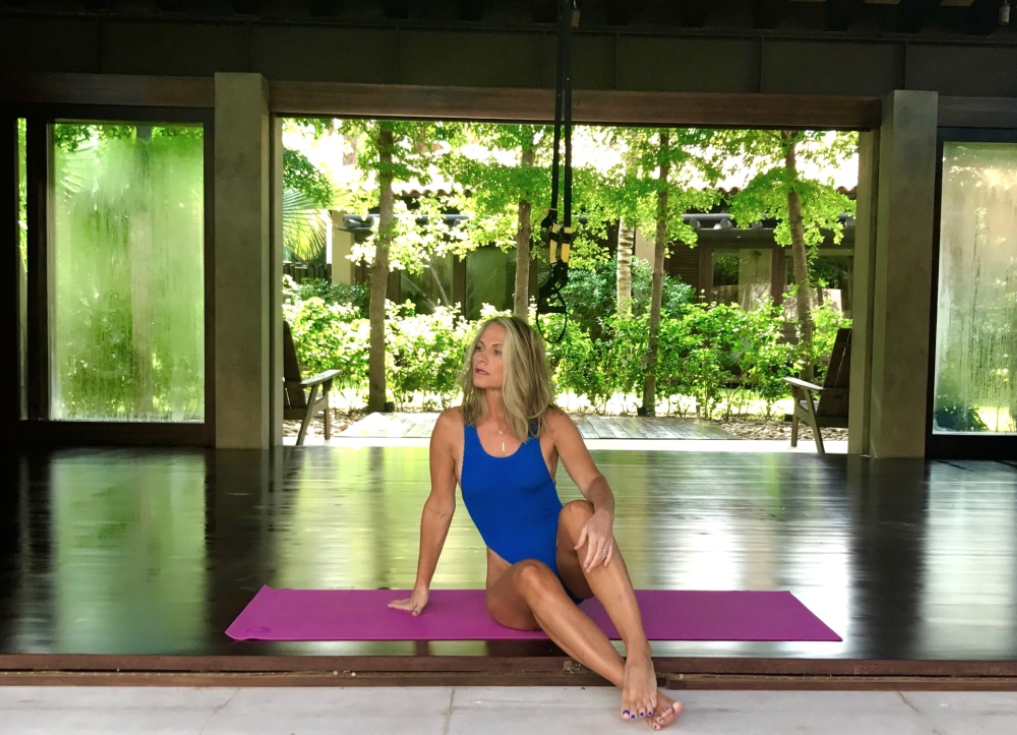 Tucari Yoga Sanctuary
Air-conditioned and just phenomenal, the Tucari room, which means "good energy" has a relaxing, Zen ambience. This room is adorned with native wood flooring, features floor to ceiling windows to offer a view of vast reflection pools and lush native gardens. The doors on both ends open so you can take advantage of Mexican breeze. There is also a quaint little air-conditioned gym that has professional quality Precor elliptical cross-trainer, treadmill and bench and adjustable free-weigh set.
ABOUT THIS PARADISE THEY CALL PUNTA MITA
Punta Mita is not Punta de Mita… I learned that Punta Mita is an exclusive community just outside of Punta de Mita! Punta Mita is really a private paradise – very secure and upscale. Right now only two 5-star resorts (St Regis and Four Seasons) have been permitted to operate there to keep it from being over saturated by tourism. Puta Mita is surrounded with Mexico's enchanting local culture. As you leave the secured gates of the private sanctuary of Punta Mita lies a quaint town — The pedestrian promenade is just ideal for an evening stroll to select the venue that matches your mood. I heard many new dining options are on the rise, including authentic Mexican cuisine, sushi and Asian grill, fresh seafood, nice tropical ambience and one of the region's most renowned gourmet restaurants.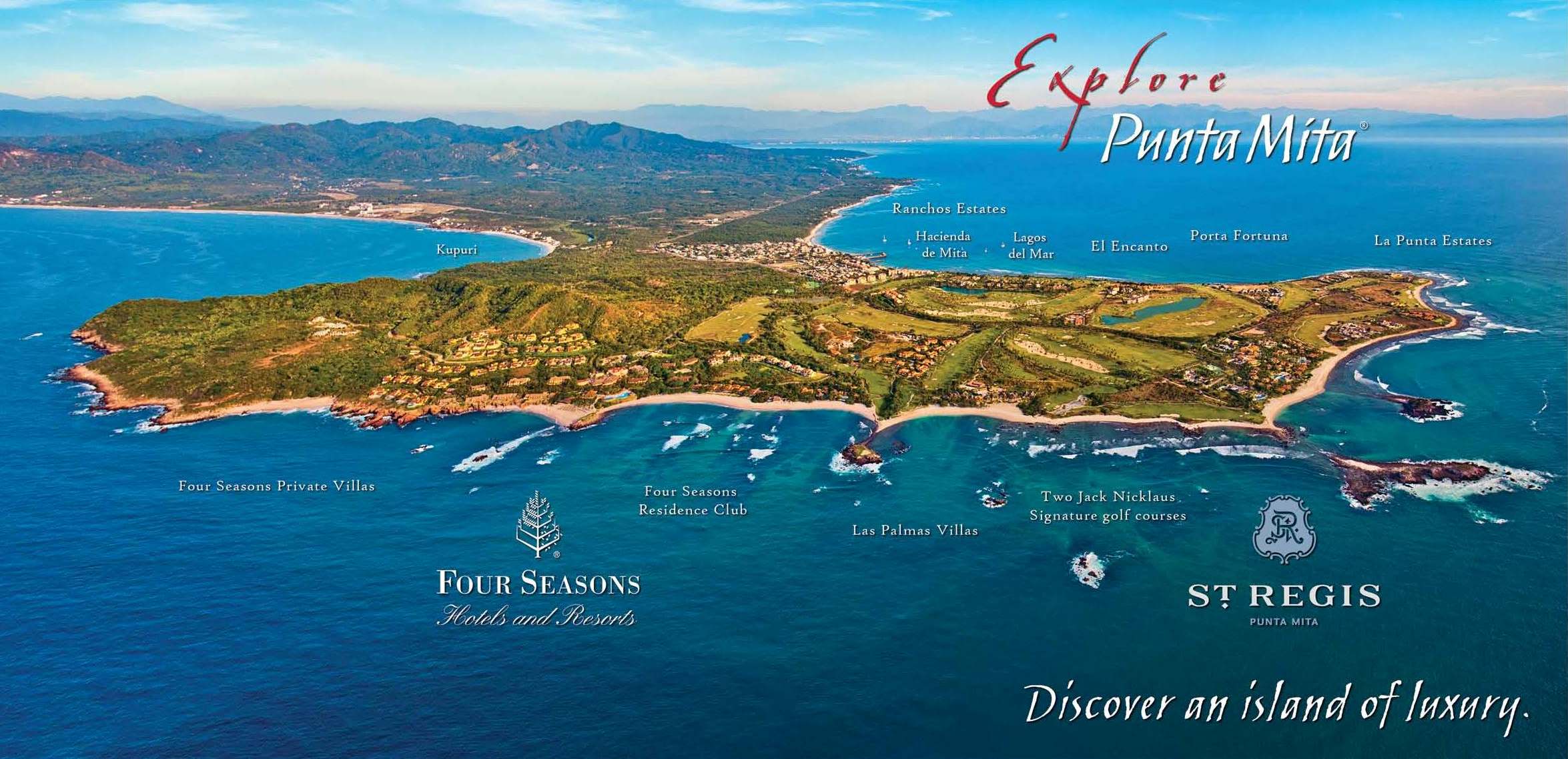 This land is quite grand and luxurious. On my tour I found that Punta Mita is a 1,500-acre private resort and residential community that lies on the peninsula surrounded on three sides by white sand beaches, Pacific Ocean waters and lush tropical flora. Many of the private homes are condominiums, townhomes, single-family homes and villas. All owners must select a Membership in Club Punta Mita. A Premier Membership provides access to both Jack Nicklaus Signature golf courses, the Tennis & Fitness Center with 10 tennis courts, four Residents' Beach Clubs with pools, restaurant, kids club, sea kayaks and surfing and a yacht pier.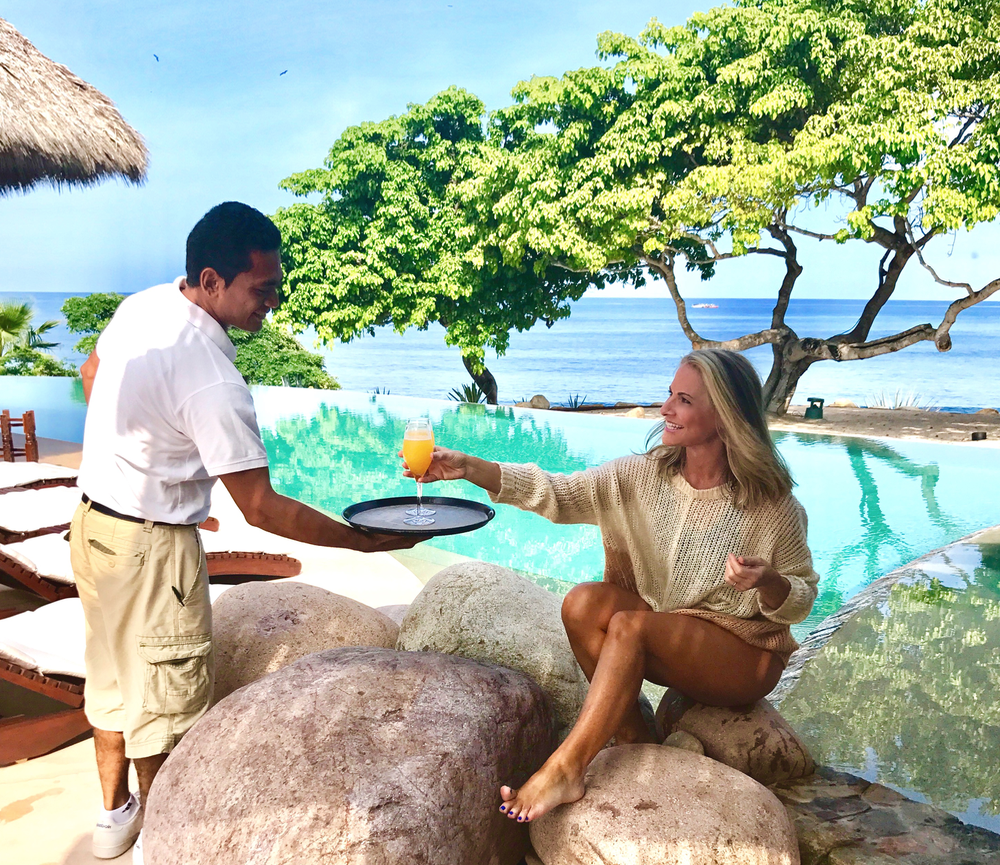 Casa-Majani provided our accommodations. The point of the trip is to bring traveling families to Punta Mita in Mexico and to talk about what we see and how to experience Riviera Nayarit; my primary focus is travel with kids. No one has told me that I cannot post negative information. No one has told me that I must say positive things. I am always as objective as I can possibly be. I also only promote products, services and vacations that contribute to a family's well-being.