Don't be discouraged if your child wets the bed every night. It is a challenge that you and your child can overcome through diligence and patience. Children under 6 years old do wet the bed; this is not abnormal or a cause for concern. However, if your child continues to wet the bed after age 7 or 8, then consult with your pediatrician. Nighttime bladder control is a physical and developmental process so be assured that with support and guidance, your child will outgrow the bedwetting and will eventually master dry nights. Young children need their parents to help them make the transition to dry nights. Do not hold high expectations for a process that they have little or no control over. The key to an easy transition is for parents to be well informed.
Children may wet the bed because:
- Their bladders have not fully matured. This lack of muscle strength is causing them to wet the bed.
- Stresses in children's lives can cause bedwetting. The stress could come from the presence of a new baby, divorce, moving, transition into a new school or getting a new teacher, death, family crisis, or physical changes such as diabetes.
- Severe discipline, abuse, threats, inconsistent care-giving can be an emotional cause for bedwetting. Parental yelling and fighting, sudden emotional instability can cause serious psychological strain.
- The kidneys of some children produce more urine than a normal sized bladder can hold.
- There is a hormone that is not yet developed in children, which causes the kidneys to slow their production of urine during the sleeping hours. Studies have shown that children who wet the bed simply cannot wake up in time to go to the bathroom.
Here are some helpful steps to deal with bedwetting:
- Never punish, bribe, use rewards/sticker charts or demand that your child stay dry during the night.
- Listen to the concerns of your child. Children rarely wet the bed on purpose. Take the time to listen to their fears and concerns.
- Assure your child that you are there to help and support him. Always be matter of fact so that he doesn't feel embarrassed or ashamed.
- To avoid putting your child in a pull-up or in Goodnites -  wake him up in the middle of the night before you go to bed for one last bathroom visit.  It took us 6 months of waking our son up before his own body was ready to wake on its own  –and it was right before he turned 7 years old.
See a doctor if your child has had long periods of dryness and then suddenly begins to wet the bed again. A lot of patience and a little knowledge can help you and your child understand and deal with bedwetting.
We received a great Goodnites kit to help our little guy learn and cope with dry nights. The company sent us the new Goodnite Bed Mats to try out. We look forward to helping our little guy get back to sleep without being worried of being wet. Check out the site at http://www.goodnites.com/
For more parenting tips, check out Kimberley's book, The Go-To Mom's Guide.
6/28 at 6pm PST  #DadChat & @GetUnreal  Make efforts to unjunk your kid's snack foods! Join @BruceSallan @TheGoToMom @markhymanmd
They're starting with candy – the worst offender.  As you all know, most people think corn syrup, hydrogenated fat, artificial ingredients and GMOs are there for us, to make candy taste better.  Sadly, they're really there to make candy cheaper (and more profitable) to manufacture.
Unreal candies replace the junk by doubling the cacao and using real milk, cane sugar, organic palm fruit oil and more peanuts. Naturally, we think their candy taste better.  But it also has substantially less sugar and fat, fewer calories, and more protein than leading candies.
They're competing head to head–at the same price–across CVS, Walgreens, Kroger, Target, Rite Aid and 7-11 stores.  Their plan is to disrupt the junk food market by proving you can unjunk, enjoy the taste, pay the same price and find it everywhere.
We think you will like the candy. But Unreal's goal is to be a catalyst.  This summer, they're unjunking a few feet of your candy aisle.  In five years, they want the entire aisle unjunked, no matter which company gets the sale.
We'd love for you to be involved as we launch this new product: Get the word out about UNREAL and they will keep UNJUNKING your favorite junk foods…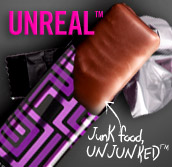 TWEET with us! See some fun tweets below!
Enjoy a health guilty pleasure, for a change http://ow.ly/bG3Jo join us 6/28 6pm PST #DadChat @GetUnreal
Spoil your kid with a healthy treat! Join us on 6/28 at 6pm PST for #DadChat @GetUnreal http://ow.ly/bG3Jo
Why can't we have it all? #DadChat #GetUnreal http://ow.ly/bG3Jo Join us! 6/28 at 6pm PST for a tweet chat!
Stop sneaking sweets yourself @TheGoToMom or stealing from your kids! #DadChat @GetUnreal http://ow.ly/bG3Jo – let's chat! 6/28 6pm PST
Candy CAN be unjunked – JOIN US 6/28 at 6pm PST @GetUnreal! #DadChat http://ow.ly/bG3Jo
Need your chocolate fix? How about a pure candy? @GetUnreal! #DadChat http://ow.ly/bG3Jo
Why didn't I think of this? @GetUnreal! #DadChat http://ow.ly/bG3Jo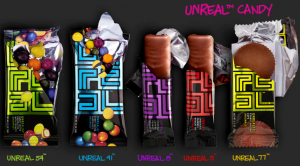 Join us Thursday, June 28th at 6pm PST for a #DadChat @GetUnreal to learn learn about Unreal and how you can make efforts to unjunk your kid's snack foods! @BruceSallan @TheGoToMom @markhymanmd @GetUnreal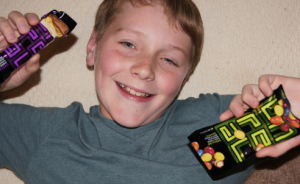 Posted in
Uncategorized
Tagged candy, dadchat, get unreal, unreal


Sometimes it's difficult to get our kids to do things we need them to do. Incorporating play with your requests can help your child focus and follow through with a task. A child's imagination is flourishing at this age and continues to become more sophisticated as she get older.
For more great parenting tips, check out Kimberley's book, www.TheGoToMomsGuide.com.